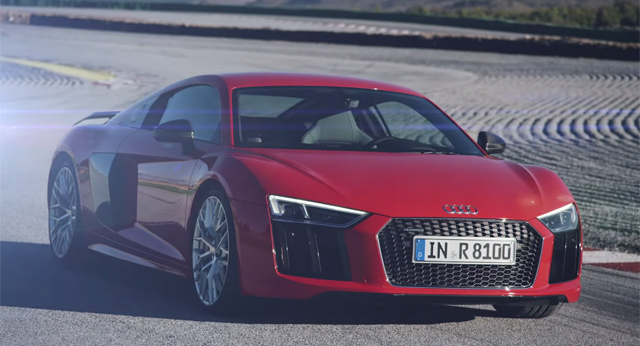 The first video of the 2016 Audi R8 V10 Plus has just been released with the clip showing the second-generation German mid-engined supercar on the track. Additionally, it includes a selection of close-up looks at many of the new design elements of the 2016 R8 V10 Plus.
[youtube]https://www.youtube.com/watch?v=ztkrZQMes90#t=52[/youtube]
In case you didn't know, the 2016 Audi R8 will only be available with the 5.2-litre V10 engine from launch. In base 2016 Audi R8 V10 specification, that engine has been tweaked from the current one up to 540 hp while the range-topping Audi R8 V10 Plus pumps out 610 hp and 560 Nm of torque. As a result, the Audi R8 V10 Plus will accelerate to 100 km/h in a mere 3.2 seconds, 200 km/h in 9.9 seconds as well as a top speed of 330 km/h. By comparison, the regular Audi R8 V10 will still sprint to 100 km/h in a respectable 3.5 seconds as well as a 323 km/h top speed.
Numerous upgrades have been performed to the engine to help achieve the higher horsepower and torque outputs. First and foremost, a new indirect injection system has been installed alongside the FSI direct fuel injection. Elsewhere, dry sump lubrication is featured. Additionally, the second-generation 2016 Audi R8 boasts the new cylinder on demand (COD) system which translates into lower fuel consumption as one bank of cylinders can shut down when not required. All told, the Audi R8 V10 consumes a mere 11.8 litres of fuel per 100 km while the 2016 Audi R8 V10 Plus sucks down 12.4 litres per 100 km. Those figures translate into 275g of CO2 and 289g of CO2 respectively.