In standard specification, the Audi S3 Cabriolet is a car which combines impressive performance in a luxurious package which won't break the bank of many. For Audi S3 Cabriolet owners looking for extra power however, tuning manufacturer MTM has just unveiled its S3 Cabriolet with a plethora of mechanical modifications. Additionally, some minor visual tweaks have been installed. The car will be unveiled at the Geneva Motor Show 2015.
For starters, MTM has installed its engine management unit system which lifts power up to an impressive 426 hp and a total of 530 Nm of torque. Consequently, the sports car will reach 100 km/h from a standstill in less than five seconds as well as an electronically limited top speed of 270 km/h. Alongside the different ECU, the MTM Audi S3 Cabriolet has been installed with a different turbocharger as well as a completely new full exhaust system.
The car pictured set to be unveiled at the Geneva has been fitted with mismatching wheels to showcase the different designs offered by MTM. The passenger side features gloss black wheels with tight spokes while the driver side features a 9 spoke silver design. Elsewhere, a black livery has been fitted.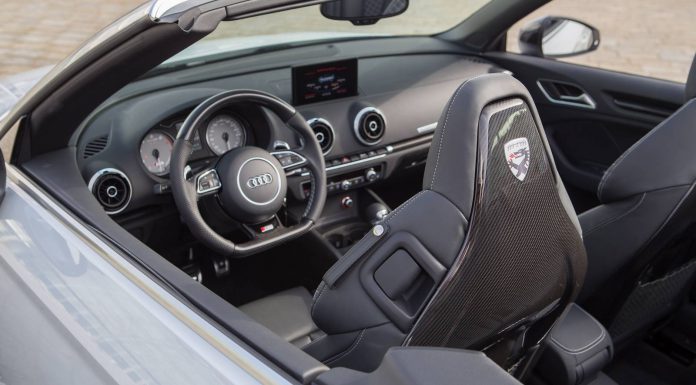 Discussing the car and MTM more generally, MTM chief executive Roland Meyer said, "As an Informatics and Mechanical Engineer I have never strayed from this path. Our measures to increase power are always repeatable, successful and so assured that we are able to guarantee them. Our future is aptly described as 'sporty, special and supreme".