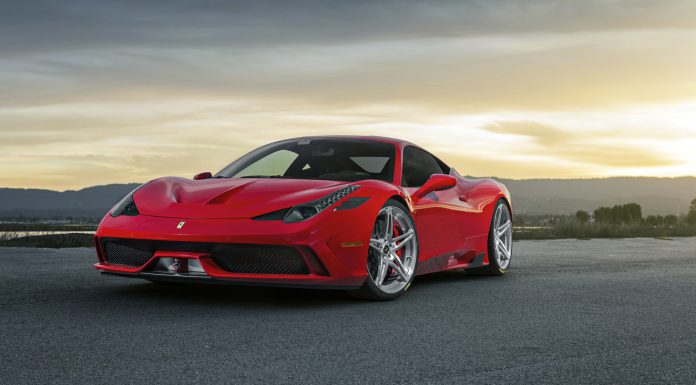 While the Ferrari 488 GTB was recently introduced as the replacement to the Ferrari 458 Italia, the hardcore Ferrari 458 Speciale will long be remembered as the final naturally-aspirated V8 powered Ferrari coupe. As a result, it is bound to become a collector's car in the future which makes each and every unit produced more special now than ever before.
The crew at GT Auto Concepts recently got their hands on a Ferrari 458 Speciale and in order to make it stand out, a set of PUR Wheels were installed. These particular wheels are the PUR RS10's and they measure 21×9 at the front as well as 22×12 at the rear. While many high-end aftermarket wheels fitted to supercars are often dark coloured, these are finished in 'Gloss Brilliant Silver' and definitely complement the lines of the 458 Speciale well.
As a reminder, the Ferrari 458 Speciale features a modified variant of the regular 458 Italia's 4.5-liter V8 engine. In Speciale guise, it delivers a total of 597 hp and 398 lb-ft of torque. What's more, Ferrari claims that thanks to it delivering 133 hp per litre, it has the highest ever per litre output of a road-going naturally aspirated engine. Maximum power is achieved at 9000 rpm while max torque is reached at 6000 rpm.