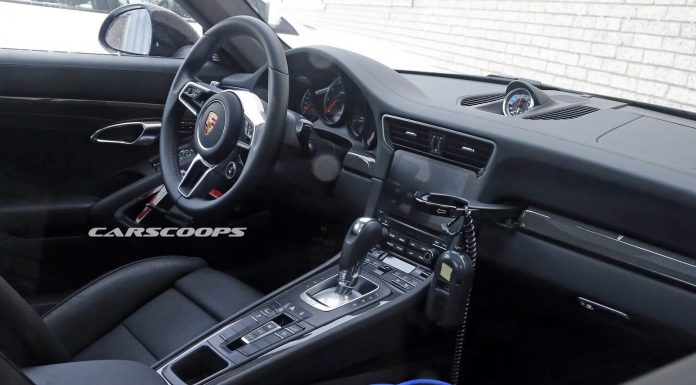 Spy photographers have managed to snap the interior of the facelifted Porsche 911 completely undisguised in the midst of cold weather testing.
While the refreshed Porsche 911 will only be a relatively minor facelift, the interior of the following test mule shows that a number of new elements will be featured throughout. The most obvious interior change is the installation of a new three-spoke sport steering wheel. This new steering wheel bares immediate resemblance to the one from the Porsche 918 Spyder.
As a matter of fact, it even features the same circular toggle switch as the 918 Spyder which as it stands, is used to switch through the driving modes of the hybrid hypercar. While it remains to be seen what functions of the facelifted 2016 Porsche 911 this toggle switch will control, some suggest that it could operate the 'Sport' and 'Sport Plus' modes available for the 911.
Another change which is immediately noticeable for the facelifted Porsche 911 is the inclusion of a new multimedia system believed to be incorporating a touchscreen. Alongside the new display, different buttons and switches can be found on this tester.
GTspirit review of 2014 Porsche 911 Turbo S

Beyond the interior modifications, subtle exterior changes will also be included. For example, revised bumpers both front and rear, adjustable front air intakes as well as revised LED daytime running lights are expected. Tweaks to the headlights and taillights are also pencilled in to feature prominently.
Beyond the small visual and aerodynamic modifications for the facelifted Porsche 991, an entirely new range of turbocharged six-cylinder engines are expected to arrive. These new engines will reportedly replace the existing range of naturally aspirated engines leaving the 911 range with just a single all-motor powerplant exclusively for the 911 GT3.
Set to power the facelifted Porsche 911 Carrera will be a turbocharged unit displacing less than 3.0-litres. Despite being smaller than the existing 3.4-litre engine, this new turbocharged engine should deliver about 15 hp more bringing the total figure up to 365 hp. This engine will reportedly be fettled by Porsche's expert engineers for use in the Carrera S as well which should deliver about 415 hp compared to the current 400 hp.
The facelifted Porsche 911 range should launch at the IAA Frankfurt Motor Show 2015 in September.
[Via Carscoops]