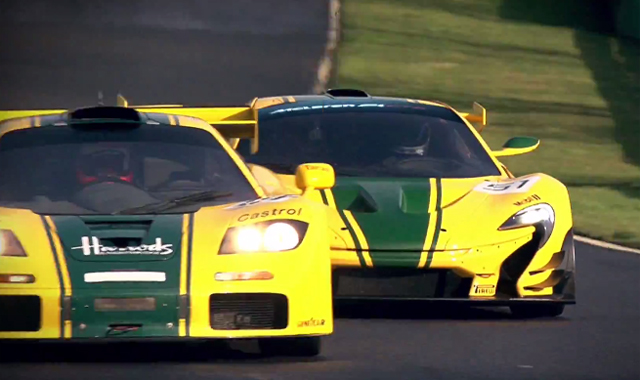 A week after the covers were taken off the 2015 McLaren P1 GTR, the official promo for the car has been released with it featuring the P1 GTR showcar hitting the track alongside a legendary McLaren F1 GTR wearing the same livery. The car will be unveiled at the Geneva Motor Show 2015.
The video perfectly highlights the similarities and differences between the two track-tuned monsters as they hit the racetrack in a fury and push each other through the turns and down the straights both at night and during the day. If the official details and pictures of the car didn't get you excited about the P1 GTR, then this clip surely will!
[youtube]http://www.youtube.com/watch?v=y6BgALogmLY[/youtube]
The most dramatic change of the initial McLaren P1 GTR show car set to be displayed at Geneva compared to the concept is its livery. The new livery pays homage to the chassis #06R McLaren F1 GTR and will be one of a selection of finishes available to P1 GTR customers. Another small aerodynamic modification is the implementation of two new canards on either side of the front bumper while the wing mirrors have also been reshaped.
Elsewhere, the design of the completed McLaren P1 GTR remains essentially identical to the Design Concept from last year's Pebble Beach. As such, the front track has been increased by 80 mm and has been completed with an aggressive front splitter even more pronounced than the road cars. Reprofiled low temperature radiator ducts seamlessly flow into the leading edge of the aggressively flared front wheel arches while the active aerodynamic flaps from the 'normal' P1 have been maintained.
Modifications have also been made to the engine of the McLaren P1 to create the P1 GTR. Typically the P1's 3.8-litre twin-turbocharged engine and electric motor make 903 hp combined. That has been increased to 986 hp (1000 PS) for the McLaren P1 GTR however.