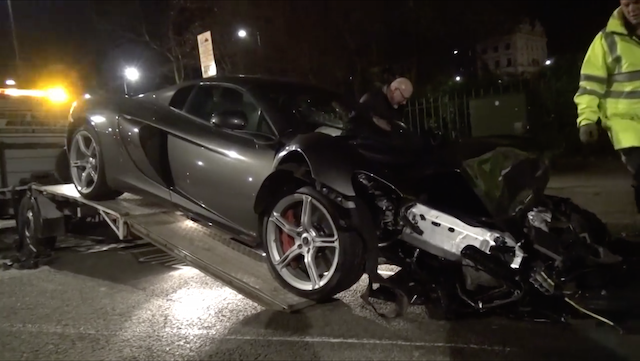 A McLaren 650S Spider has been crashed in London. The car, that was registered in Monaco, was wrecked on Sloane Street in Knightsbridge where extremely valuable supercars from all over the globe are regularly seen.
It is not the first time a car of such calibre has been destroyed on the same street. In the summer of 2014 a matte black Lamborghini Aventador was crashed very close to where the 650S was left mangled and almost unrecognisable.
It has emerged that the British supercar collided head on with a silver Saab that it also beyond repair. It is thought that all occupants of both cars were not left with any serious injures. It is still not clear exactly how the accident happened or if any dangerous driving was involved.
[youtube]http://youtu.be/57EMhP2sN9A[/youtube]
When in one-piece that McLaren 650S Spider is spectacularly fast. While the 650S Spider is made slightly heavier through the addition of the retractable roof components, it is mechanically identical to the 650S Coupé. It is therefore fitted with the uprated, in-house McLaren M838T twin turbo V8 engine, producing 650 hp and 678 Nm of torque. This makes 0-100 km/h possible in a square 3.0 seconds, identical to the Coupé, and 200 km/h possible in 8.6 seconds, only 0.2 seconds shy of the fixed-head model. Top speed is 329 km/h.
The carbon fibre MonoCell chassis sits at the heart of the McLaren 650S Spider with no modification or strengthening. This makes for identical handling, ride, and virtually identical straight-line performance figures. This is possible despite a 40 kg weight increase up to a total figure of just 1,370 kg (dry). The roof takes just 17 seconds to close and can be operated at speeds of up to 30 km/h.
For more on the McLaren 650S be sure to check out our lifestyle story on living with an MSO edition. Still want more? Read our review of the British V8 supercar!