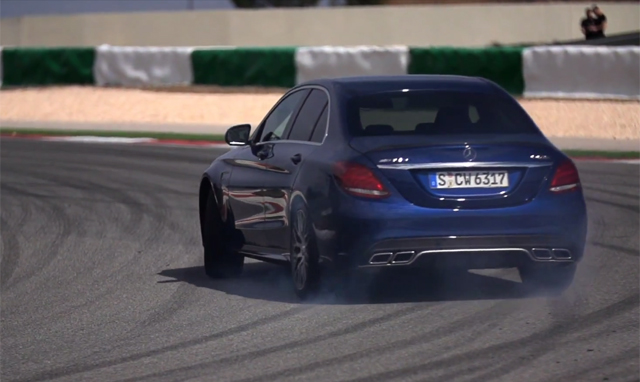 Everyone's favourite automotive journalist, Chris Harris, recently jumped behind the wheel of the 2015 Mercedes-AMG C63 S on the road and track to see just how the car compares not only to its main rival (the BMW M3) but also the previous-generation C63 AMG.
Compared to the previous Mercedes-Benz C63 AMG which just so happens to be the firm's most successful ever model, the newly named Mercedes-AMG C63 uses a twin-turbocharged 4.0-litre V8 rather than a 6.2-litre naturally-aspirated V8. In C63 S specification, the new engine shared with the AMG GT S produces 503 hp at 5500 rpm and 516 lb-ft of torque from 1750 to 6250 rpm. This is even more power than the old C63 AMG 507 Edition which delivered 500 hp and 450 lb-ft and is in line with the AMG GT S.
[youtube]https://www.youtube.com/watch?v=n4XUTu2lzTo[/youtube]
Compared to the BMW M3 which features a twin-turbocharged 3.0-litre V8 engine delivering 425 hp at 5500 rpm and 405 lb-ft, the new AMG C63 is significantly more powerful. Alongside the additional power of the latest generation car, it also weighs less than the outgoing model by 15 kg in sedan guise. All up, the potent C63 S delivers 304 hp per tonne with it tipping the scales at 1655 kg.
When it is all said and done, the new 2015 Mercedes-AMG C63 sprints to 100 km/h in just 4.1 seconds in sedan guise and 4.2 seconds in the optional Estate body style. By comparison, the C63 S reaches the same mark in 4 seconds flat as the sedan and 4.1 seconds as the Estate. Both variants and body styles are limited electronically to 250 km/h.
Both C63 variants feature the AMG seven-speed Speedshift MCT automatic transmission complete with paddle shifters and four different driving modes. These are C (controlled efficiency), S (sport), S+ (sport plus) and in the C63 S, R for race.