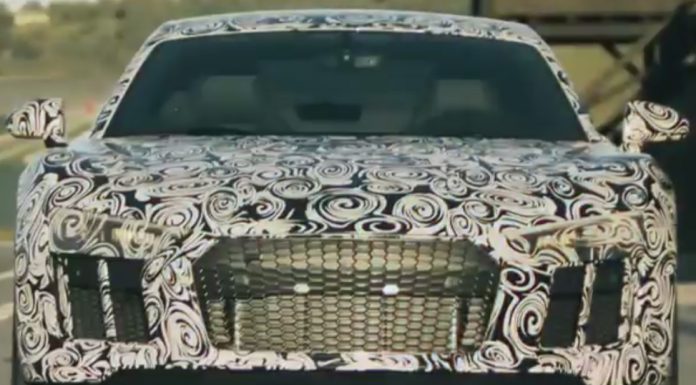 Audi has released a new video showcasing the second-generation Audi R8 undergoing development testing at the Ascari Race Resort.
The prototype, which is piloted by Audi driver Frank Stippler, remains heavily camouflaged, despite photos of the car being leaked earlier this month. According to Audi's Heinz Hollerweger, the new R8 is a combination of "racing experience from the first generation" and "automotive experience from the entire company."
[youtube]https://www.youtube.com/watch?v=KImjA9q1VDU[/youtube]
Recently we reported that the new R8 will come in two specs – V10 and V10 Plus. The V10 in the 2015 R8 will be naturally aspirated and produce 532 hp at 8,000 rpm and 540 Nm of torque at 6,500 rpm. Those opting for the range-topping Plus model will receive a tuned version of the same engine that produces 601 hp and 560 Nm of torque. The standard model now has 15 hp more than the previous generation, with the Plus model receiving a bump of nearly 60 hp comparatively.
The new R8 V10 Plus will reach 96 km/h in just 3.2 seconds on the way to a top speed of 330 km/h. Overall, the new car is 0.3 seconds quicker and 13 km/h faster than the previous generation.
The new Audi R8 will premiere at the Geneva Motor Show next month. In the meantime, however, check out the video above to see the R8 in action on track!