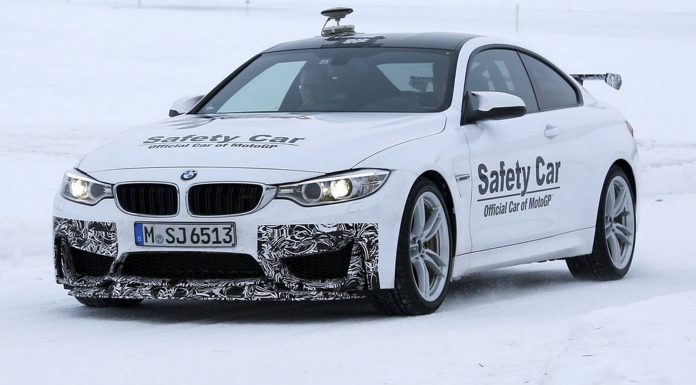 New BMW M4 GTS spy shots have emerged following on from the first prototype being snapped about five months ago.
As with the others, this latest prototype wears stickers saying it is a safety car for the MotoGP. However, the plethora of visual and aerodynamic modifications indicate that it is much more than a safety car. As such, the latest word on the street is that it could be hardcore variant of the M4 dubbed the BMW M4 GTS.
For starters, these BMW M4 GTS spy shots reveal a heavily revised front bumper with a new splitter and redesigned air intake surrounds. Additionally, a camouflaged rear wing has been installed. Previous test mules have also reportedly featured lightweight Recaro racing seats as well as lightened alloy wheels.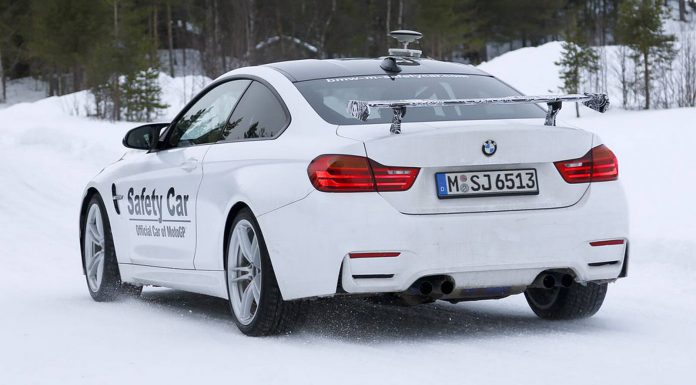 If the car pictured is indeed a BMW M4 GTS, it is expected to be similar to the M3 GTS it will effectively replace. As a reminder, the M3 GTS weighed significantly less than the regular E92-generation BMW M3 through the removal of the rear seats and other measures. Furthermore, it featured a little boost in power so we expect the same from the M4 GTS.
As a refresher, both the new M3 sedan and M4 coupe are fitted with a twin-turbocharged six-cylinder engine revving to 7,600 rpm and producing an impressive 431 hp between 5,390 rpm and 7,000 rpm and 406 lb-ft of torque from a low 1,800 rpm to 5,390rpm. That torque figure is available across a broad rev range and is an improvement over the outgoing BMW E92 M3 of 40 per cent.