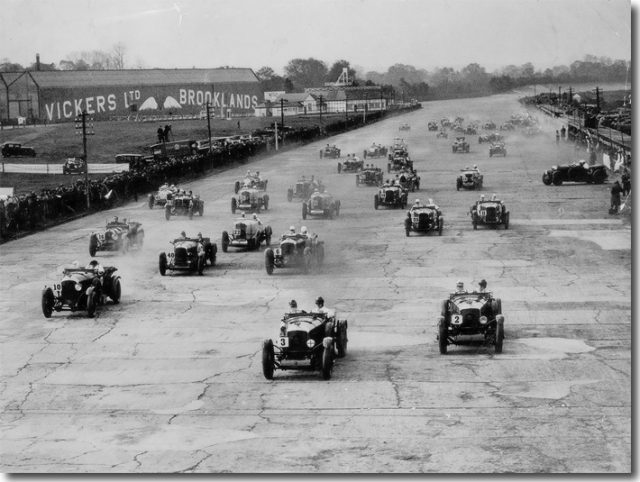 It was announced today that Brooklands Museum in Surrey, UK will get a £4.7 million heritage grant which will enable it to carry out restoration work. The funds will be used to restore sections of the historic Grand Prix racing circuit and will also go towards moving a World War II hut to a new location.
For the benefit of those that have not heard of the historic Brooklands Motor Racing circuit, here is a brief history lesson. In 1907, the circuit was opened as the world's first purpose-built motor racing circuit. The complex doubled up as one of the first purpose built air fields too.
Between the 1907 and 1939, the venue held various race meets including the world's first 24 hour motor event. The circuit also became famous for the records that were set including several distance records and even early land speed records set before attention moved to Bonneville Salt Flats. The fastest was a 143.44 mph top speed set in a Napier Railton
Brook lands is also said to have inspired the design of the iconic Indianapolis Motor Speedway, built just two years later in 1909. The circuit itself was 2.75 miles and surfaced entirely from concrete.
It closed shortly before the outbreak of World War II when it was requisitioned by the Government for the production of Vickers and Hawker aircraft. It was used to produce Hurricane fighters and Wellington bombers between 1939 and 1949. After the war, various factors made it uneconomic to return the track to its former glory and so it was sold to Vikers and Hawker.
It wasn't until 1987 that the Brooklands Museum re-opened. It has since housed some of the most iconic historic vehicles, race meets and aircraft on display in the UK. Parts of the circuit have been sold to Mercedes-Benz and others can be seen from the roads that surround the area.
The museum has raised over £1.2 million on its own and has been awarded £4.681 million by the lottery fund. It still needs to raise a further £775,000 but we are told that work will start in the next few months with completion set for summer 2016.
The work will include the removal of a Vikers aircraft assembly building from the former track way and reconstruction at another site. A new Flight Shed will house a collection of historic planes and artefacts.