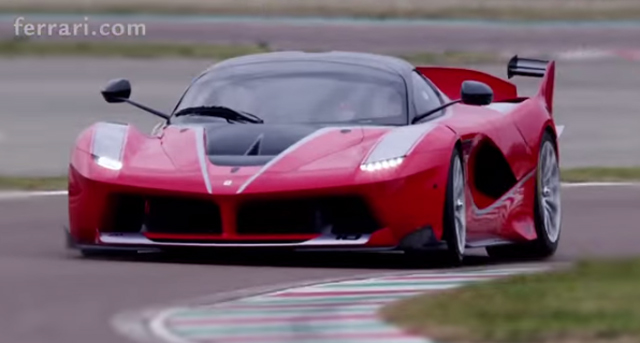 Having just moved to the Ferrari Formula One team, four-time world champion Sebastian Vettel has already commenced testing the Italian marque's finest ever products. With that in mind, he recently hit the Fiorano test track in the recently revealed LaFerrari FXX K.
The following high-octane video shows Vettel topping 274 km/h on the circuit's relatively short straight while also managing to kick the tail out of the downforce heavy track-tuned variant of the LaFerrari. If you have a spare 2 minutes, then this is certainly the way to spend it!
[youtube]https://www.youtube.com/watch?v=EXbdcdxv93c[/youtube]
Beneath the skin, the LaFerrari FXX K features a tuned version of the LaFerrari's 6.3-litre V12 engine and electric motor powertrain. Rather than the 950 hp delivered by the road car, the LaFerrari FXX K produces a potent 1021 hp and over 664 lb-ft of torque. Of that power, 835 hp comes from the naturally-aspirated V12 while the remaining 188 hp comes from the upgraded electric motor. Mated to this potent powertrain is a seven-speed paddle-shift dual clutch transmission.
To achieve the extra power, the V12 has been installed with new camshafts, revised intake manifolds, a redesigned valve train as well as mechanical tappets. Elsewhere, the exhaust system has been changed while the HY-KERS system now provides four different driving modes. These are Qualify Mode, Long Run, Manual Boost and Fast Charge.
Qualify Mode provides the maximum performance for a limited number of laps, Long Run is designed for longer stints on the track, Manual Boost provides maximum torque instantly while Fast Charge charges the car's battery.
While the Italian firm has yet to announce just how fast the LaFerrari FXX K is, it should hit 100 km/h in around the 2.5 second mark as well as a theoretical top speed well in excess of the 350 km/h achievable by the road car. All told, the LaFerrari FXX K is 194 mm longer and 59 mm wider than the standard car but maintains the same 1116 mm height of the road car.