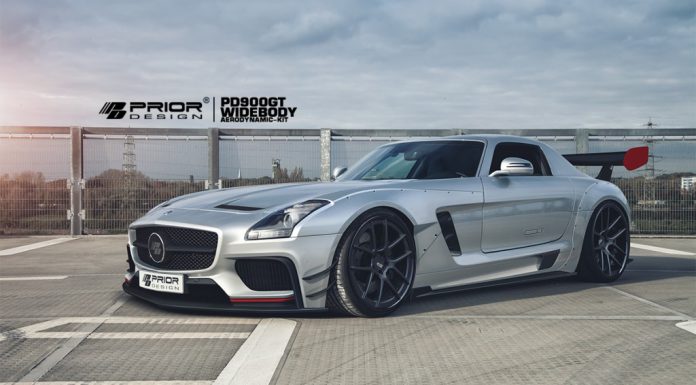 The Mercedes-Benz SLS AMG may no longer be available to order through showrooms, however, the tuning world has not forgotten it! Prior Design recently released the Mercedes-Benz SLS AMG PD900GT. Bringing a bit of GT3 styling to the Mercedes-Benz supercar, the PD900GT will be available to order from 20 March 2015.
Prior Design are a German tuning company, based in the North Rhine-Westphalia region in the town of Kamp-Lintfort. They have specialised in Mercedes-Benz tuning for quite some time, offering aerodynamic parts, alloy wheels and exhaust systems both online and out of their showroom as well as painting and installation in Kamp-Lintfort.
The package is quite comprehensive and includes a front bumper with a deep front diffuser, side flicks and a grille. The rear bumper features a new rear diffuser with redesigned exits for the exhaust tips. Side skirts are ultra aggressive with a flick towards the front. The kit also includes a rear wing and a bonnet, as well as wheel spacers for both from and back.
The Prior Design Mercedes-Benz SLS AMG PD900GT looks like it bridges the gap between the Black Series and the SLS GT3. The rear wing gives it the race car look, the riveted fender flares make it look more like a Japanese tuning project, yet underneath, we are let to believe that the SLS AMG retains the road car performance.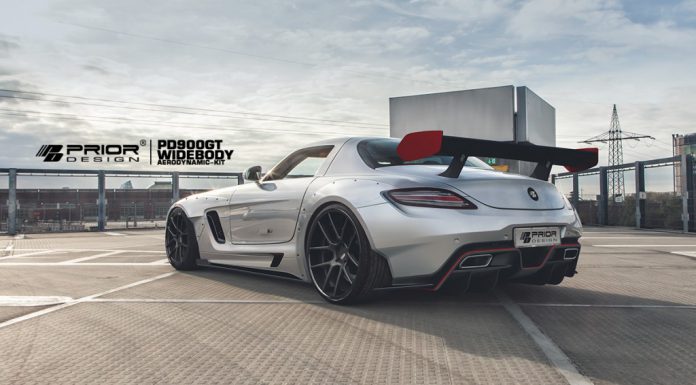 The SLS AMG comes from the factory with a 6.2 litre V8 powerplant. It isn't clear whether the PD900GT package can be applied to the latest SLS AMG GT with its 591 PS and 650 Nm performance. The 0 to 62 mph (100 km/h) is just 3.8 seconds and top speed is 196 mph (315 km/h). Those figures will probably be reduced due to the extra drag created by the new aerodynamic parts.
Prices for the PD900GT kit have yet been announced.