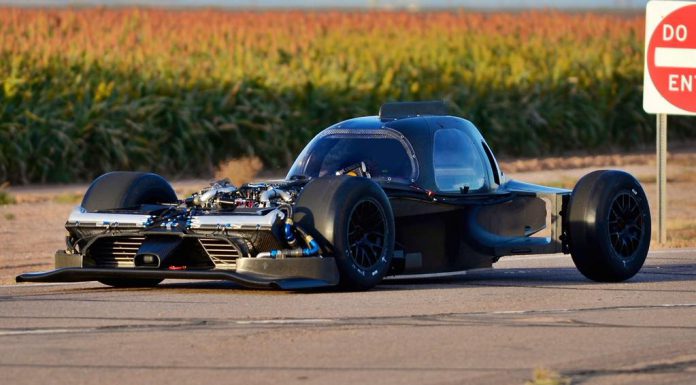 Just after unveiling the special 2015 Nissan GT-R LM Nismo racer, the Japanese marque has posted an image of a prototype in the midst of testing wearing absolutely no bodywork.
With the bodywork removed, the cockpit and chassis design of the Nissan GT-R LM Nismo can be seen quite clearly. Additionally, we get an excellent look at how much thinner the 9-inch rear tyres are compared to the 14-inch tyres found mounted to the front axle.
As speculated, the Nissan GT-R LM Nismo is front-engined unlike other modern LMP1 entrants. Up front it uses a twin-turbocharged 3.0-litre V6 engine which believe it or not, actually powers the massive front wheels. That engine is mated to a kinetic energy recovery system (KERS) and theoretically, over 2000 hp can be achieved. According to reports however, that has been lowered to the 1500 hp mark making it comfortably the most powerful current LMP1 racer.
Power from the recovery system can be funnelled through either the front wheels or the rear wheels if necessary effectively making the 2015 Nissan GT-R LM Nismo all-wheel drive in certain circumstances. To transmit such power through the front wheels, massively wide 14 inch tyres are found at the front while, as previously mentioned, 9 inch tyres have been fitted to the rear of the GT-R LM Nismo.