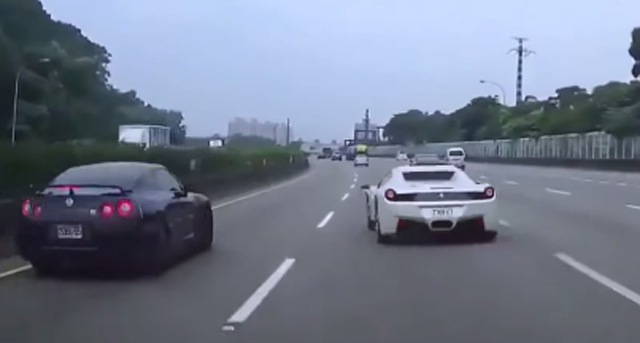 Footage has just emerged of the moment a Ferrari 458 Spider caused a Nissan GT-R to crash while driving on a Taiwanese highway.
The crash actually happened in June last year but the video has only just been released. It shows the white Ferrari 458 Spider swerving in front of the car equipped with the dash cam. The Italian supercar then continues to change into the left most lane where a black Nissan GT-R was driving along.
[youtube]https://www.youtube.com/watch?v=DCYkhXuRsWU[/youtube]
Incredibly, the Ferrari driver was completely oblivious to Godzilla right behind and in order to miss the 458, the GT-R driver took evasive action and braked heavily while also swerving to the left. That swerve however saw the Japanese sports car touch the dirt and lose control.
It then spears across the road and into a small sedan causing significant damage to both cars. Despite the carnage happening, the 458 Spider continues to drive on as if nothing happened.
Thankfully, no one was injured in the crash and local police forces are currently investigating the footage.