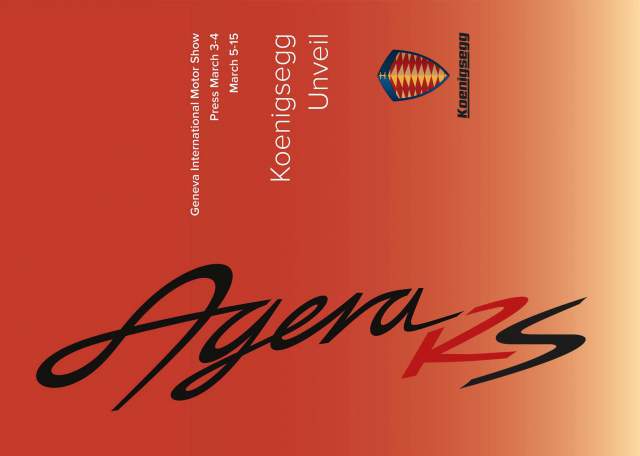 Koenigsegg usually have a few surprises in store when it comes to the Geneva Motor Show. The Geneva Motor Show 2015 will be the launch pad for the Koenigsegg Agera RS. Koenigsegg officially announced the new model today via an infographic uploaded onto the company's Facebook page.
There is no word on what the Koenigsegg Agera RS could be. We suspect it is an evolution of the Agera R released at the Geneva Motor Show 2011. Road legal, the Agera RS would presumably slot between the 1,200 hp Agera R and the range-topping 1,341 hp Koenigsegg One:1.
A Koenigsegg Agera RS evolutionary model might feature some of other parts developed for the awe inspiring Koenigsegg One:1. The new rear spoiler for example or some other aerodynamic features. Expect more power, less weight and improved suspension components too.
The other possibility is that the Agera RS is a track-day only version of the Koenigsegg Agera R. Koenigsegg have attempted to produce a race car before. The Koenigsegg CCGT was created in 2007 and built to compete in the FIA GT Championship. As the car was finished, FIA GT1 regulations were changed which meant the CCGT no longer qualified.
Whilst we don't expect Koenigsegg to make another step towards professional racing circles, we can imagine a Koenigsegg along the lines of the Pagani Zonda R, Ferrari FXXK and McLaren P1 GTR. A stripped out, no compromise track tool with no compromises and no restrictions.
Whatever the answer is, we are sure that the end result will be jaw dropping, much like last year's Koenigsegg One:1 we saw last year. Check back at the start of March for live photos of the car on display in Geneva! While we wait to see what the Agera RS is, perhaps you could let us know what you would like to see? Leave your comments in the box below.