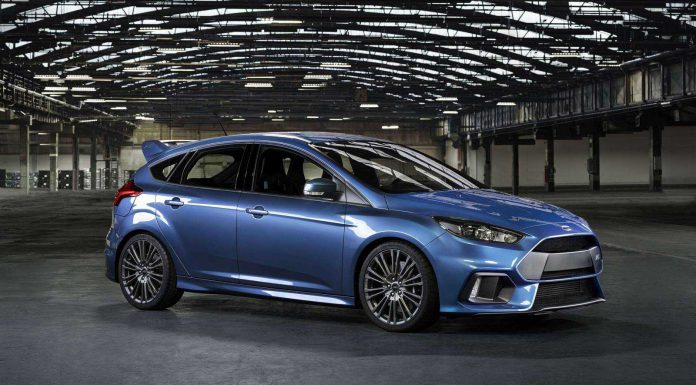 Talk about the 2016 Ford Focus RS has been ongoing for months and overnight, the new performance hot hatch was revealed in style at the company's Germany factory in Cologne. The American firm recruited one of its most famous racing drivers to help with the launch of the new Focus RS and have released the following clip of the man himself, Ken Block, drifting and sliding the Focus RS through the firm's German facilities has been released.
The new engine of the 2016 Ford Focus RS is based on the Mustang's aluminium four-cylinder 2.3-litre EcoBoost unit and delivers over 320 hp. Power is then sent through all four wheels but despite the all-wheel drive system, the new Focus RS is still very happy to kick out its tail and perform some truly ferocious slides!
[youtube]https://www.youtube.com/watch?v=Qy-mhyUAaqE#t=75[/youtube]
The all-wheel drive system also uses advanced torque vectoring and the control unit in the rear drive unit continuously varies the front/rear and side-to-side torque distribution to suit the driving situation, monitoring inputs from multiple sensors 100 times per second. Up to 70 per cent of the drive torque can be diverted to the rear axle and up to 100 per cent of the available torque at the rear axle can be sent to each rear wheel.
In the driver's seat the six-speed manual transmission has been optimised with shorter gear lever to deliver faster and more accurate shifts with both transmission and clutch upgraded for the engine's increased torque output. With direct fuel injection, twin independent variable camshaft timing and advanced turbocharging, the engine also promises significantly improved fuel economy and indications are that CO2 emissions will be significantly reduced against the previous model.
Visually, the Focus RS is both dramatic and functional. Four striking colours include Nitrous Blue, a vibrant four-coat metallic finish exclusive to the RS, plus Stealth Grey, Absolute Black and Frozen White. The car revealed in Cologne features the same special Liquid Blue colour scheme first seen on the all-new Ford GT revealed last month at the North American International Auto Show.