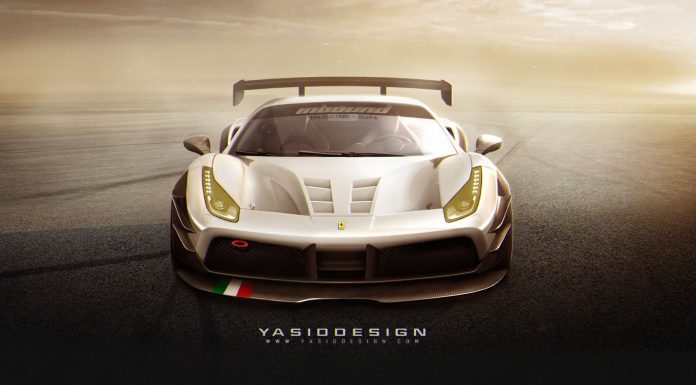 Following yesterday's release of the 2015 Ferrari 488 GTB, Yasid Design has just unveiled a rendering of a potential track-only variant of the twin-turbo V8 supercar with the so-called Ferrari 488 GTBX.
With the X in the name, the obvious intention would be for the 488 GTBX to be added to the Italian firm's XX Programme. However, generally only halo supercars from Ferrari receive the XX treatment meaning it is unlikely we'll see such a 488 variant come to life. Nevertheless, it is quite eye-opening to see how the car would look with a massive rear wing, quad front canards, flared arches, a larger splitter, revised hood and yellow tinted headlights.
As a reminder, the Ferrari 488 GTB utilises a twin-turbocharged 3.9-litre V8 engine which is significantly more powerful than the naturally-aspirated 4.5-litre V8 used by the outgoing Ferrari 458 Italia. As a matter of fact, the Ferrari 488 GTB delivers 660 hp at 8000 rpm as well as 560 lb-ft of torque at 3000 rpm. Incredibly, torque from this engine is also higher than the 509 lb-ft of the 6.0-litre V12 found in the Ferrari F12 Berlinetta.
Mated to the twin-turbocharged 3.9-litre V8 is a tweaked variant of the 458 Italia's seven-speed dual-clutch transmission driving the rear wheels. The gear ratios have been modified to improve acceleration throughout the rev range. When it is all said and done, the Ferrari 488 GTB will sprint to 100 km/h in 3 seconds flat, 200 km/h in a mere 8.4 seconds as well as a 334 km/h (208 mph) top speed. Those figures are almost identical to the 642 hp McLaren 650S which hits 100 km/h in the same time, 200 km/h in 8.5 seconds and a 333 km/h (207 mph) top speed.
Another key element in determining the potency of a new Ferrari product is its lap time around the firm's Fiorano test track. The 2015 Ferrari 488 GTB has set a 1 minute and 23 second lap time which is two seconds ahead of the Ferrari 458 Italia and the current range-topping Ferrari 458 Speciale.