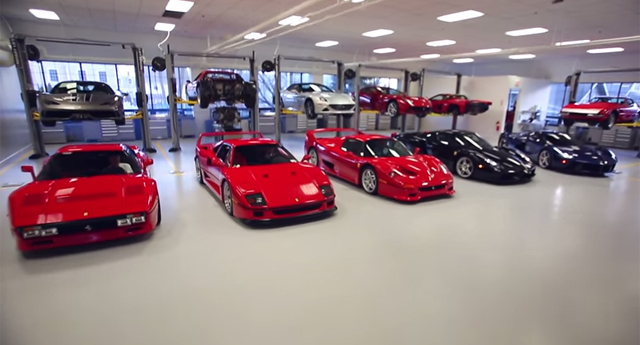 Having all five of Ferrari's halo supercars together in one place certainly isn't something that happens every day. However, Miller Motorcars managed to gather a Ferrari 288 GTO, a Ferrari F40, Ferrari F50, Ferrari Enzo and a Ferrari LaFerrari together to create a truly incredible lineup as well as a brief red battle!
[youtube]https://www.youtube.com/watch?v=DGdqAlgFXWA#t=74[/youtube]
On an engine front, here is how they compare. The Ferrari 288 GTO uses a 2.9-litre twin-turbocharged V8 engine delivering 400 hp. By comparison, the F40 also has a 2.9-litre twin-turbo V8 with 471 hp while the F50 uses a Formula One derived 4.7-litre naturally aspirated V12 with 513 hp. The Ferrari Enzo then uses a larger 6.0-litre V12 with 651 hp. Finally, the LaFerrari uses a 6.3-litre V12 combined with a HY-KERS system to pump out 950 hp.