At GTspirit we love more than just cars, we love skiing too! This year we have listed our top 10 favorite ski resorts for 2015! All resorts in our list are resorts we have visited and reviewed in a similar way to how we review our cars. Per ski resort we gave points for the pistes, off-piste skiing possibilities, restaurants, apres-ski, quality of the lifts, accessibility, nightlife, audience and much more.
We look forward to hear what your favorite ski resorts are in the comments below! Also tips for resorts we should absolutely visit for our 2016 Top 10 are also very welcome!
10. Arosa Lenzerheide – Switzerland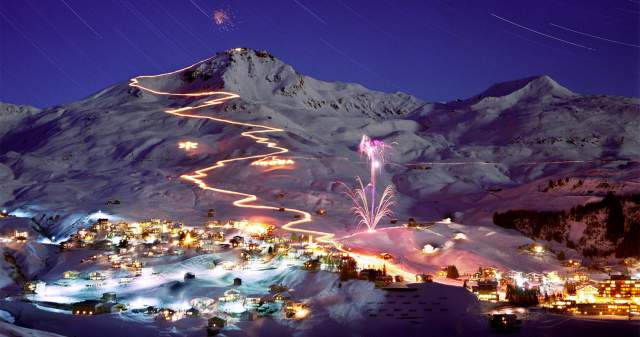 Since Lenzerheide and Arosa were connected two years ago, the ski resort ranks amongst the largest in Switzerland. Over 225 kilometers of slopes (111 km blue, 87 km red and 27 km black) along with extensive off-piste skiing make this a very interesting place to stay. Lenzerheide-Arosa is very snow-sure with slopes between 1229 and 2865 meters.
Arosa is located in a bowl South of Chur and best reached by train. Lenzerheide is easier to reach by car and offers skiing on both sides of the valley. Accommodation wise Arosa has a wider choice of (luxury) hotels and chalets for rent.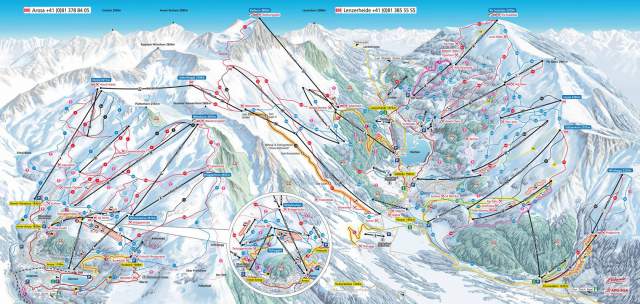 9. Crans Montana – Switzerland
The upscale towns of Crans and Montana provide access to 140 kilometers of slopes (55 km blue, 70 km red and 15 km black) and its gletscher towering out at 2927 meters. Along the slopes you will find several quality restaurants and the towns offer more than just skiing alone. Plenty of shopping, apres ski, clubs and even a casino will keep you entertained.
We particularly enjoyed the slope from the Plaine Morte glacier down to Les Violettes gondola, descending over 1200 meters! Crans-Montana offers a wide range of accommodation, from high-end luxury- and boutique hotels to catered chalets. If you are lucky you might bump in to Roger Moore who owns a house there.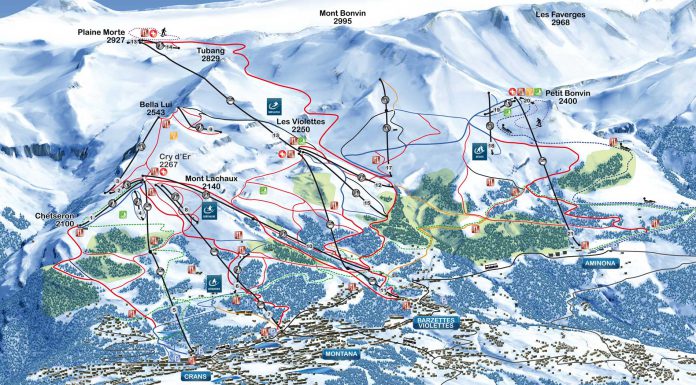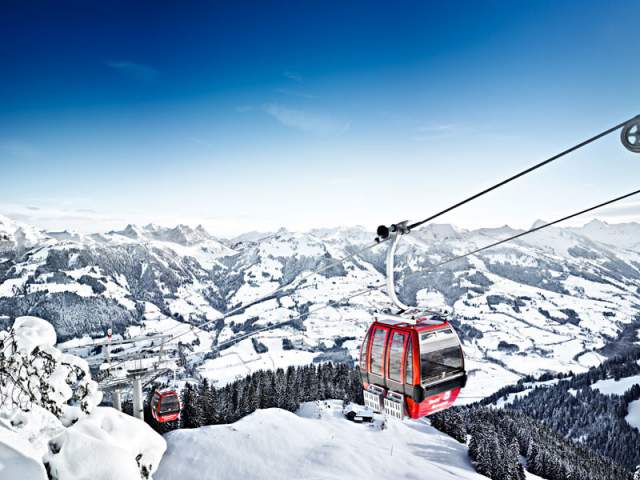 Famous for the annual ski race down the 'Streif', Kitzbuhel is a popular ski resort among wealthy Germans and Austrians. Since the 3S gondola was built the area is largely interconnected and you can ski on 170 kilometers of slopes (91 km blue, 56 red and 24 black). The resort stretches from 800 meters up to 2000 meters. The low altitude means it is not always snow-sure, but a majority of the slopes has snow machines.
There are a great variety of huts along the slopes, we particularly like the Toni Alm and the Sonnbühel. There are a lot of off-piste opportunities below the tree-line with a relatively low avalanche risk. At the end of the day there are more than a dozen restaurants, bars and clubs to eat, drink and party the night away. Kitzbühel has a large number of luxury hotels including the excellent Grand Tirolia, Kempinski Hotel in Jochberg and A-Rosa Resort.
Tip: On busy days drive to Resterhöhe where there are more parking places and less cues.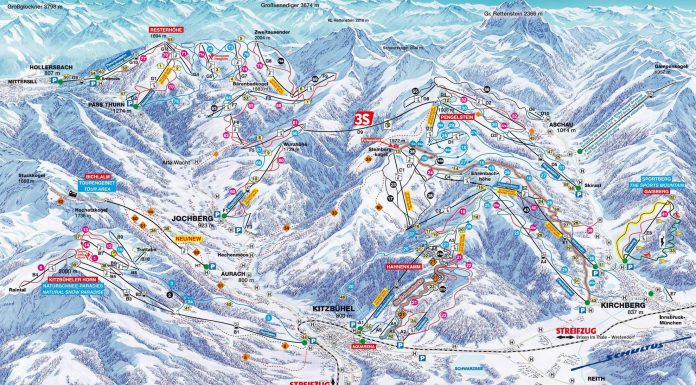 7. Zermatt / Cervinia – Switzerland / Italy
Zermatt is one of the most famous wintersport resorts in the Alps. Lesser known is the town of Breuil-Cervinia on the Italian side of the mountains. Together they offer 360 kilometers of slopes (77 km blue, 220 km red and 63 km black). The town of Cervinia lies above 2000 meters and quality snow is guaranteed. 54 modern lifts and heliskiing opportunities provide access to countless freeride opportunities.
Zermatt-Cervinia is also home to the highest skiable slope in Europe at 3,883 meters. Zermatt has a long alpine history overlooked by the famous Matterhorn and is car-free. But we prefer to stay in Cervinia which can be reached via the Milan-Malpensa and Turin airports and has many ski-in, ski-out hotels.
Tip: Make sure you buy a ski pass for the entire ski area to prevent trouble when you cross from Italy into Switzerland or vice versa.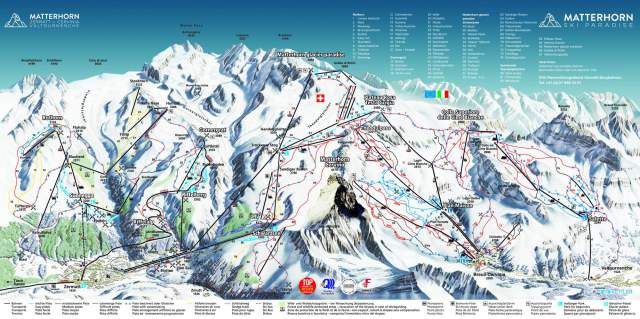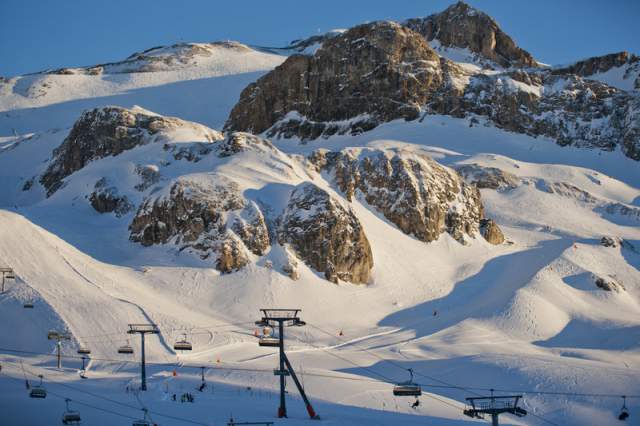 The Austrian town of Ischgl and the Swiss town of Samnaun together form the Silvretta Arena. Over 238 kilometrs of slopes (38 km blue, 155 km red and 45 km black) and a name for apres-ski. We particularly enjoyed the so called duty-free run, piste Nr 80, from the 2864 meter high Palinkopf in Ischgl to Samnaun Dorf at 1840 meter.
Ischgl is home to the famous Top of the Mountains winter season opening- and closing concerts. In town there are several clubs including the Pacha. Ischgl combines a challenging and varied ski resort with plenty of apres-ski.
Tip: Shopping in Samnaun is tax-free but take your passport along as customs might check you when you ski back to Ischgl.
5. Saalbach-Hinterglemm – Austria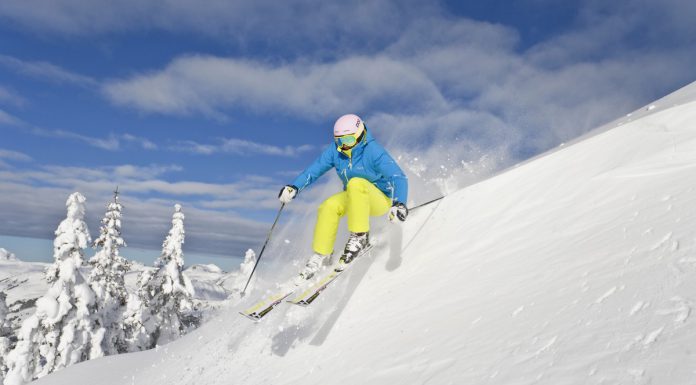 Saalbach-Hinterglemm offers 200 kilometers (90 blue, 95 red and 15 km black) slopes in a family-friendly environment. The three ski rounds are a great way of exploring the resort without having to ski a single slope twice. Saalbach has a wide variety of apres-ski bars, while Hinterglemm offers a wide choice of wellness hotels. 90% of the slopes is covered by snow machines making the area fairly snow-sure.
Next year Saalbach-Hinterglemm will also be connected to Fieberbrunn in Tirol, adding another 40 kilometers of slopes. Although at first sight it might not be the best place to freeride, it is very easy to find untouched powder.
Tip: Read our latest in-depth review of the Saalbach-Hinterglemm ski resort!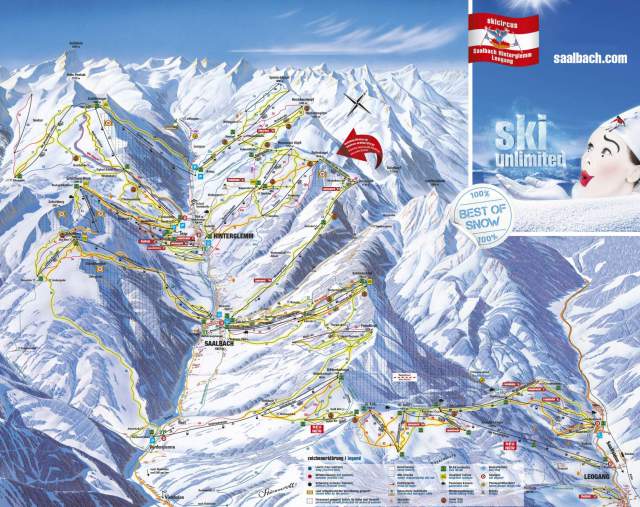 4. Verbier / 4 Vallees – Switzerland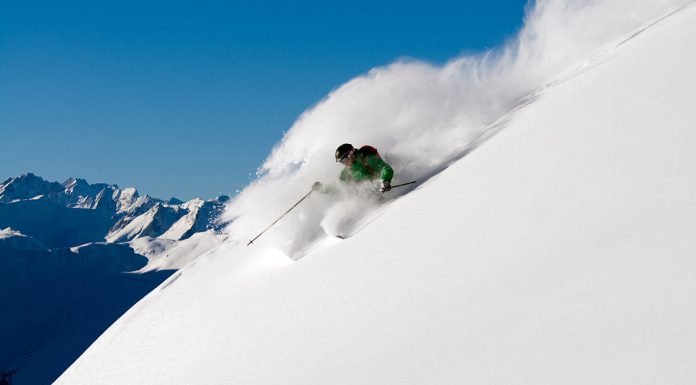 If we had to pick one resort that offers the best combination of powder and party, its Verbier! Located about 1,5 hours from Geneva Airport it offers 412 kilometers of groomed slopes (107 km blue, 202 km red and 103 km black) and countless opportunities for helicopter skiing and ski tours. The highest peak you can reach with skis is the 3,330 meter high Mont Fort. From there you can ski all the way down to Verbier at 1,500 meters.
A W hotel recently opened in Verbier and it is also home to Richard Branson's The Lodge chalet. We usually stayed at the centrally located Farinet hotel that includes a popular apres-ski bar and club – it can get quite loud so better be ready to party! After a long day at the slopes have dinner at Restaurant le Fer à Cheval and party the night away at the Farm Club. Most of Verbier consists of traditional wooden chalets and the crowd in Verbier is very international.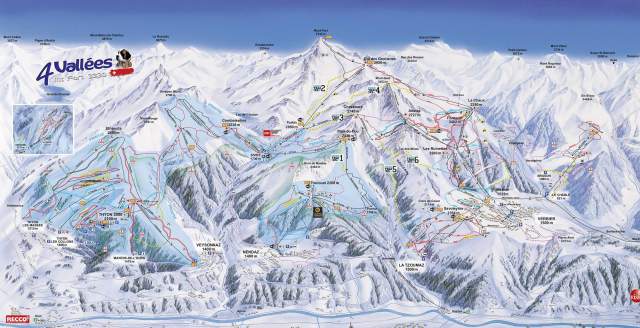 3. St Anton / Lech Zürs am Arlberg – Austria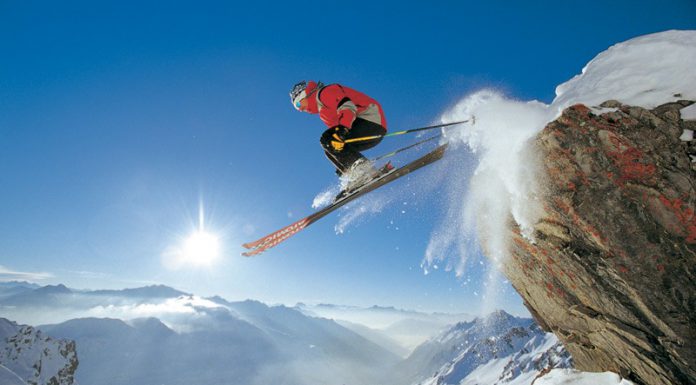 Sankt Anton am Arlberg and Lech Zürs might not be directly connected but thanks to their close proximity they can easily be combined for a week or weekend of fun in the mountains. Lech and Zürs are more upmarket, don't be surprised to see a Lamborghini or a few European royals roaming about in the snow. Sankt Anton on the other hand is one of the most popular apres-ski resorts in Europe. Combined St Anton and Lech-Zürs have over 300 kilometers of slopes, 121 km in St Anton (54 km blue, 43 km red and 24 km black) and 180 km in Lech (73 km blue, 79 km red and 28 km black).
With slopes between 1304 and 2811 meter above sea level it is very snow-sure and still offers decent snow quality late in the season. St Anton am Arlberg and Lech both offer plenty of ski tours and freeride opportunities but due to most slopes being above the treeline there is a high risk of avalanches and off-piste skiers frequently die here.
Lech and Zürs offer most luxurious and ski-in, ski-out accommodation including catered luxury chalets. Sankt Anton has accommodation for smaller budgets as well. The Mooserwirt in Sankt Anton is one of the most popular apres-ski places in entire Austria with live DJ every day from 3 til 8pm.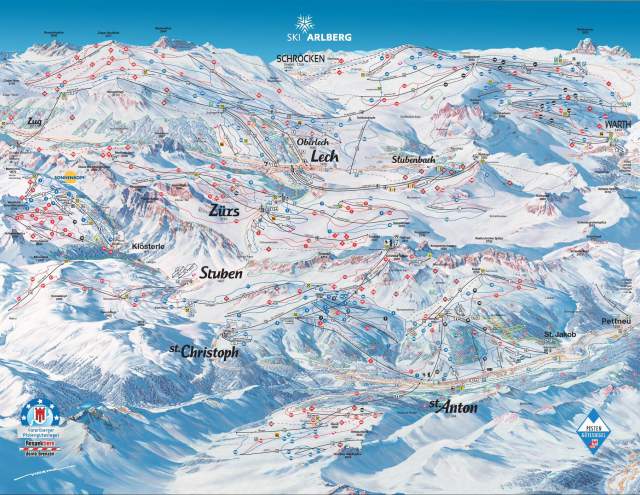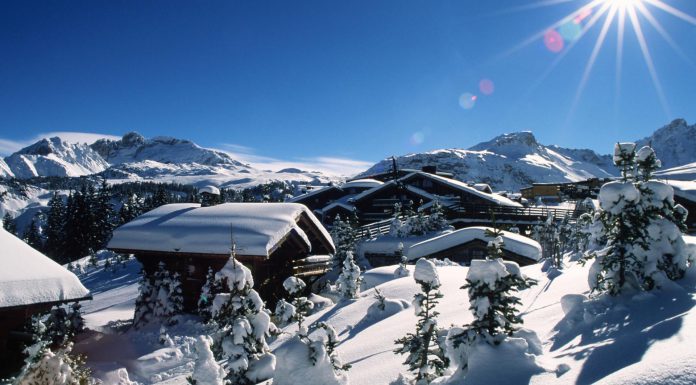 Classed as one of the largest ski resorts in the world, Les 3 Vallees offers over 600 kilometers of groomed slopes (312 km blue, 216 km red and 72 km black). The slopes expand endless across the three valleys home to well-known villages like Courchevel, Meribel and Val Thorens. Courchevel is the most luxurious destination of three. Meribel offers steeper slopes and Val Thorens lies at over 2,000 meter and offers many apres-ski parties. What the Mooserwirt is for Sankt Anton is 'La Folie Douce' for Val Thorens.
Les 3 Vallees is best reached by plane and rental car via Grenoble or alternatively Geneva Airport. There are hundreds of hotels and accommodations in Les 3 Vallees and a majority of them are ski-in, ski-out accommodations. There are many excellent restaurants including several Michelin-star restaurants directly at the slopes – per example the Chabichou in Courchevel. Covering well over 2000 meter in altitude between the highest point at 3230 meter and the lowest at 1100 meters, one of the strengths of Les 3 Vallees are the extremely long runs.
Tip: When skiing in one of the other valleys keep an eye on your watch as missing the last lift will mean an expensive taxi ride back to your valley since there are no ski busses connecting the different valleys.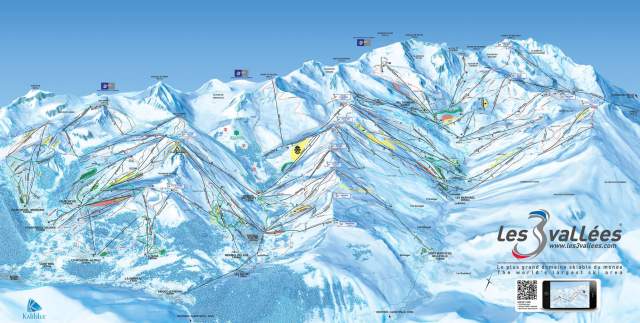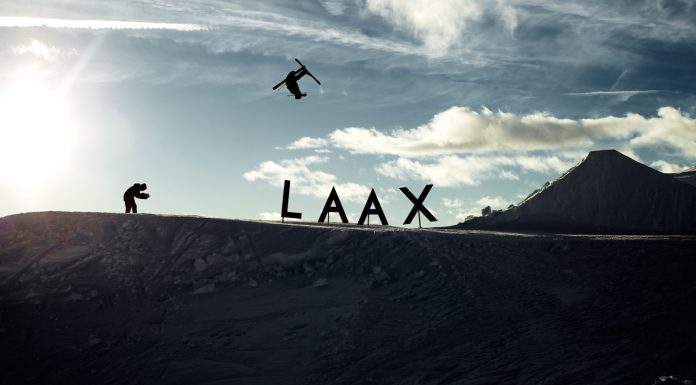 Our favorite ski resort for 2015 is Flims-Laax-Valera in Switzerland. Why? It has over 220 kilometers (77 km blue, 97 red, 46 km black) groomed slopes, modern lifts, a glacier and some very nice restaurants! And that is not all; Flims-Laax has a very big fun park and one of our favorite slopes in the Alps.
Flims-Laax is easily reached via Zurich Airport and rental car or train via Chur. Most of the slopes are wide and facing the sun. An absolute must for lunch or an after-ski drink is the Ustria Startgels restaurant next to the Grauberg bahn. We can also recommend the culinary delights served at Das Elephant at Crap Masegn. In Flims, Laax and Valera there is a wide selection of hotels and chalets. Laax attracts a bit younger crowd, where Flims has a selection of luxury hotels.
Tip: Take black piste 35 from the 3018m Vorab Gletscher to the Lavadinas 6-chair lift at 1904m!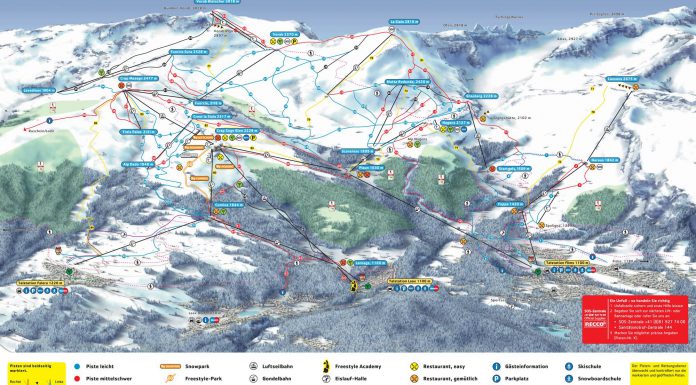 We hope you enjoyed our selection of the best ski resorts for 2015! Don't forget to share your favorite resorts or tips where what resorts we should explore for next years' Top 10!