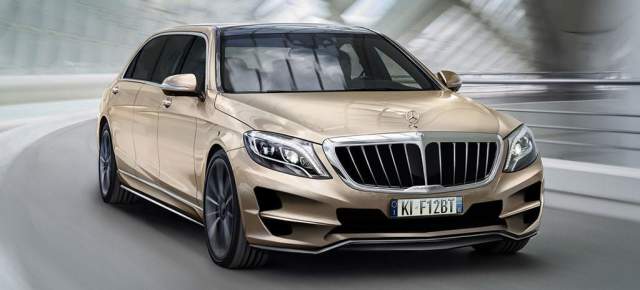 In the coming months, the range-topping Mercedes-Benz S-Class Pullman will be released. Before the covers are taken off that special S-Class variant however, niche tuner ARES Atelier has unveiled its stretched S-Class.
As shown in the following renderings, the Mercedes-Benz S-Class XXL from ARES Atelier will be feature a much longer wheelbase than the standard car to provide significantly more interior room and luxury. To achieve the expanded length, numerous measures have been adopted to strengthen the chassis while a carbon fibre bodykit has also been implemented.
That new bodykit incorporates a dramatically restyled front bumper alongside a different chrome grille. Additionally, new side skirts have been adopted while at the rear, the exhausts have been reshaped alongside a slightly different bumper and diffuser.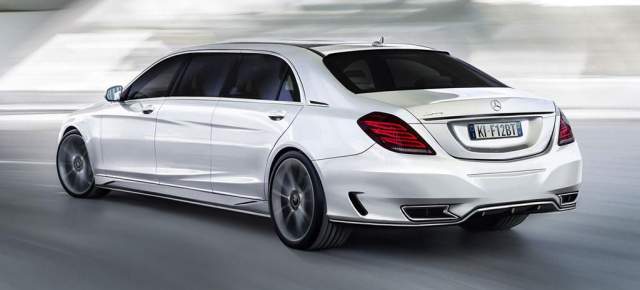 Beyond these design elements, ARES Atelier is promising that its Mercedes-Benz S-Class XXL will be available with 6 mm tempered side windows, the set of 21-inch wheels pictured as well as a tweaked transmission. Additionally, nappa leather upholstery will be outfitted throughout the cabin alongside a 17-inch roof-mounted TV screen for occupants. Elsewhere, electric curtains will be installed alongside an even more extensive sound system. A bomb detection device can also be optioned.
It is suggested that ARES Atelier will utilise the S-Class's range-topping 6.0-litre twin-turbocharged V12 engine and tune it from the current 530 hp to beyond 600 hp.