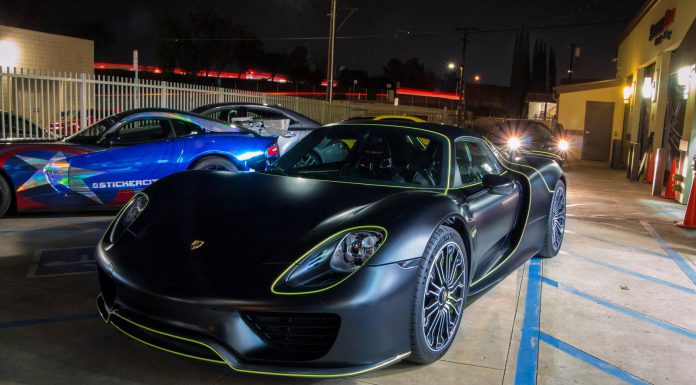 On the back of our recent launch of the GTspirit Supercar Owners Club, we've just received our latest submission from a member of well-known Instagrammer Alejandro Salomon. The car in question is his recently delivered Porsche 918 Spyder.
When Salomon's Porsche 918 Spyder left the factory, it was painted gloss black and already exceptionally eye-catching. Since then however, it has been installed with a special clear bra from Sticker City. That clear bra creates a matte black effect officially dubbed Stealth Black. Additionally, this eye-catching 918 Spyder has been outfitted with green piping across many of the lines and panel gaps of the German hybrid hypercar.
Beyond these unique touches, Salomon's potent ride will soon be installed with a new set of wheels courtesy of Our Wheels and is sure to look even more breathtaking than it currently does.
As a quick reminder, the Porsche 918 Spyder uses a mid-mounted 4.6-litre V8 engine producing 608 hp independently – the highest specific power of any naturally aspirated Porsche engine. The V8 is then supplemented by a further two electric motors mounted on each axle resulting in a combined 887 hp.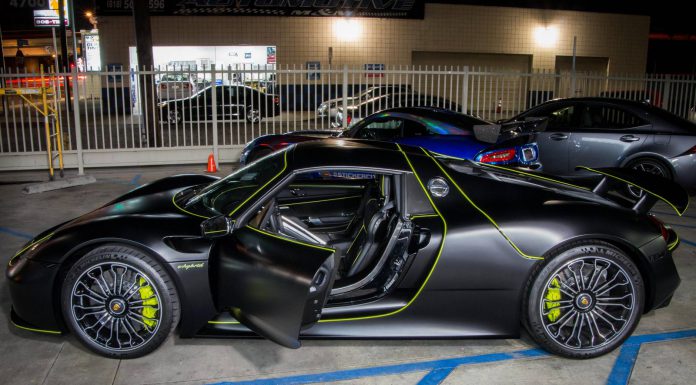 To get your supercar experience featured, send an email to [email protected] attaching your photos or videos (via Dropbox or WeTransfer) and the story. For those in need of photographers we can offer you some help with that as well, just contact us. Don't forget to apply for exclusive membership in the GTspirit Supercar Owners Club.