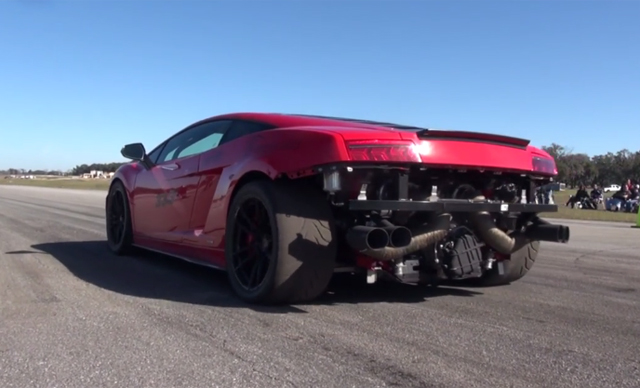 During a recent drag racing event in the U.S, a 2000 hp strong twin-turbocharged Lamborghini Gallardo span out at almost 320 km/h (200 mph) before sliding into a lake next to the runway.
[youtube]https://www.youtube.com/watch?v=EAx_YAy9RwQ[/youtube]
It remains unclear just how much damage has been done to the Italian supercar but because the lake itself is quite shallow, there's a very good chance the car will be repairable. That however will be little consolation to the owner who will inevitably have to embark on a lengthy and costly rebuild process.
The exact cause of the crash isn't known but it is apparent that the car lost traction at high-speed. One possible cause for that is that the rear bumper and diffuser hadn't been installed for the run inevitably decreasing rear-end downforce.