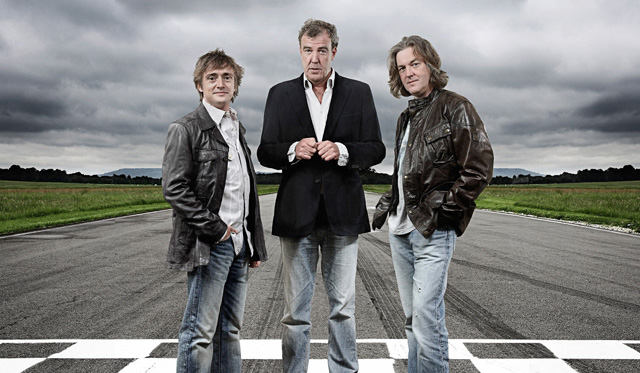 Top Gear returns to our television screens tonight as Top Gear Season 22 Episode 1 airs. Hot off the back of the two-part Patagonia Special, Jeremy Clarkson, Richard Hammond and James May will kick off the new season tonight at the usual time of 8pm on BBC 2 and BBC 2 HD!
Top Gear Season 22 Episode 1 will see a number of features including a review of the new Lamborghini Huracan conducted by Richard Hammond. Ed Sheeran is the star in the reasonably priced car, he has already revealed that he had a small accident in the Vauxhall Astra so it will be exciting to see what time he eventually set.
The main feature of Top Gear Season 22 Episode 1 is a race through the Russian city of St Petersburg. The gold envelope challenge will see James driving a modest Renault Twizy, Richard using pedal power and Jeremy piloting a hovercraft. The Stig will also form part of the race, forced to travel using public transport to reach the finish line!
Top Gear Season 22
Top Gear Season 22 Episode 1 also follows last weekend's "An Evening With Top Gear". A live hour long session which saw the team answer all sorts of questions.
Top Gear Season 22 will continue next week with another episode. Season 22 is the longest series of Top Gear ever with 12 episodes airing in total (including the two Patagonia episodes). The upcoming season has been filmed across six continents, including North America, South America, Europe, Africa, Asia, and Australia/Oceania.
Other challenges will include a test in Canada involving the Hennessey VelociRaptor and Chevrolet Silverado. We do also expect to see a film comparing the McLaren P1, Porsche 918 Spyder, and LaFerrari. Next week sees an adventure in Australia involving a Bentley Continental, Nissan GT-R, and a BMW M6.
Don't forget to tune in tonight at 8pm, BBC 2 for Top Gear Season 22 Episode 1!