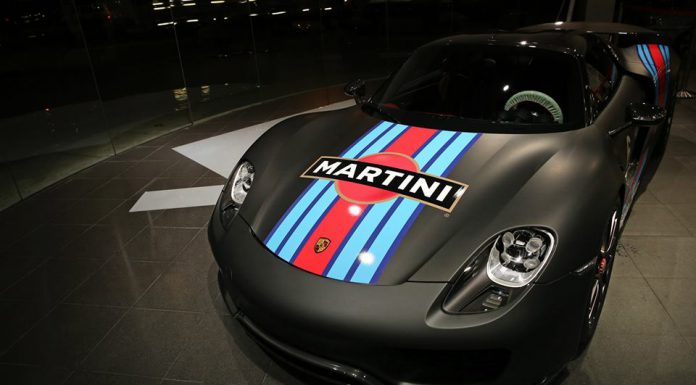 A special matte black Porsche 918 Spyder complete with the optional Weissach package and a Martini racing livery has just been delivered in Taiwan.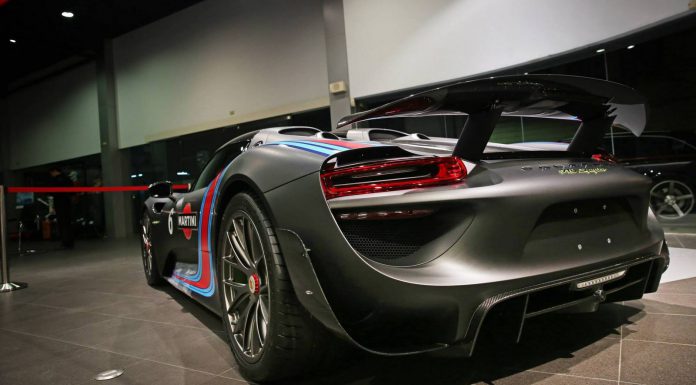 The German hybrid hypercar is currently sitting in a dealership before it is inevitably delivered to the customer. Beyond the matte black paint scheme and Martini livery, this Porsche 918 Spyder features gunmetal grey wheels with red centrelocks alongside bright green brake calipers.
As a reminder, the headline for the Weissach Package is improved performance. From zero to 100 km/h takes just 2.6 seconds, 0.2 seconds faster than the standard model. It takes just 7.2 seconds to travel from zero to 200 km/h in 7.2 seconds (a 0.5 second reduction), and 19.9 seconds to pass the 300 km/h mark (a 2.1 second reduction).
This extra speed has been achieved by stripping away lots of unnecessary weight. For example, the car features lightweight magnesium wheels, a weight-optimised brake system with titanium components, a carbon fibre reinforced plastic (CFRP) anti-roll bar at the rear axle as well as a CFRP prop on the luggage compartment lid.
[Via 車迷俱樂部 autoclubline]