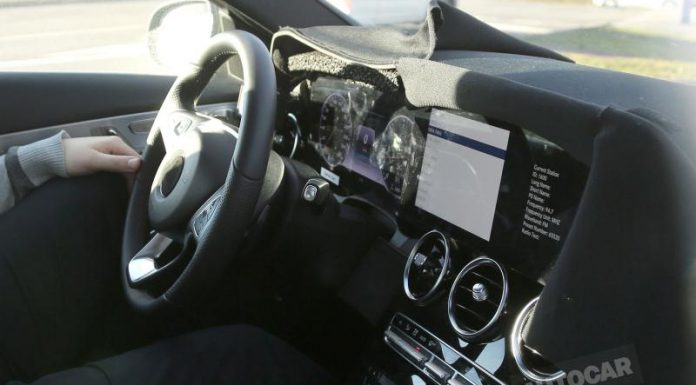 An intriguing Mercedes-Benz C-Class prototype has been spied testing complete with the full digital display and instrument cluster of the current Mercedes-Benz S-Class.
The current C-Class has been in production for less than 12 months and it is believed that the German firm is already working on a plethora of upgrades for the sedan. Autocar reports that the updates will come as part of the facelifted Mercedes-Benz C-Class range set to launch in the latter half of 2016.
The new digital dash won't be identical to the one from the S-Class but will share many of its features and functions. As such, the display will be customisable and will also play a major role with new autonomous driving functions set to be adopted by the new C-Class. Alongside the digital display, the facelifted C-Class will be available with radars, cameras and ultrasonic sensors to enable semi-autonomous driving.
It is suggested that the 'Stop and Go Autopilot' feature from the S-Class will be available for the new C-Class. This system enables the car to drive itself in dense traffic with sensors ensuring the car remains in its lane without driver inputs while auto-braking functions also become enabled.
Alongside the adoption of numerous new pieces of technology, the new Mercedes-Benz C-Class will receive a slightly refreshed design.
[Via Autocar]