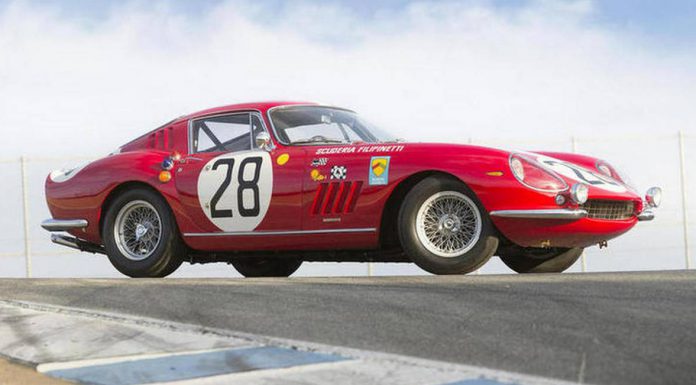 A rare 1966 Ferrari 275 GTB Competizione has managed to snap up $9.405 million at auction courtesy of Bonhams.
This particular Ferrari 275 Competizione Scaglietti recently took part in the Italian firm's 60th anniversary celebrations in Beverly Hills. Additionally, it is one of just 12 examples ever produced and was originally owned by Georges Filipinetti, a race team owner and race driver who took part in the 1967 edition of the 24 Hours of Le Mans in it as well as the Spa-Francorchamps endurance race in 1969. It came first in the GT class in both of these historic races.
After being retired from racing, the car joined an American collection before being damaged by fire in 1985. However, it was restored in Italy soon after and was recently featured in an issue of Octane magazine and reviewed by journalist and Pebble Beach Concours judge, Winston Goodfellow.
As part of the restoration for this particular 1966 Ferrari 275 GTB Competizione, it adopted blue leather upholstery as well as a brand new aluminium body. In 1997, it was purchased by Japanese collector Yoshikuni Okamoto and shortly after being shown at Pebble Beach in 2006, it was sold to British enthusiast Ross Warburton.
[showhide]
Press Release 1966 Ferrari 275 GTB Competizione Auctions for $9.4 Million
"Ex-Scuderia Filipinetti – Ferrari Classiche Certified
1966 Ferrari 275 GTB Competizione
Chassis no. 09079
Engine no. 09079
3,286cc SOHC V12 Engine
3 Weber 40DFI/7 Carburetors
Approximately 320bhp at 7,500rpm
5-Speed Manual Transaxle
4-Wheel Independent Suspension
4-Wheel Disc Brakes
*Le Mans 24 Hours, 1000 Kms de Spa-Francorchamps and 500 Kms de Imola Class Winner
*One of the most successful and pedigreed examples of the twelve 275 GTB/Cs
*Restored to 1967 Le Mans Class Winning livery and Ferrari Classiche Red Book Certified
*Pebble Beach Concours d'Elegance and Cavallino Classic entrant
*Offered with extensive history file including copies factory build sheets
THE MOTORCAR OFFERED
In July 1966, the Ferrari factory received an order from SAVAF for a 275 GTB Competizione, later specified to be chassis no. 09079. Late in the specialty model's limited run, the car was the penultimate example of the thinly aluminum-skinned competition GTB, making it the second-to-last GT car ever produced by Maranello's factory competition department.
Factory records indicate the Tipo 213 competition motor was completed on September 8, with dynamometer testing occurring a day later. Trimmed with a light gray headliner, blue cloth seat upholstery with matching leather paneling, and complementary blue carpets, the rare GTB/C was finished in Rosso Chiaro paint, paving the way for the famous white-striped Scuderia Filipinetti livery. The car also featured right-hand-drive steering, in the tradition of Maranello's great racing sports cars. In October the car was officially sold to the Scuderia Filipinetti through SAVAF and registered with Swiss tags reading "GE 81703," though clearly the car was ordered with racing and testing use in mind.
For the 1967 season, Scuderia Filipinetti intended to focus on its prototype 412P (to be driven by Muller), while other team entries would be more independent in nature. Faced with this partial support, driver Dieter Spoerry left the Filipinetti umbrella, choosing instead to team with journalist Rico Steinemann in Spoerry's ex-factory Porsche 906. The two showed great promise with a fifth-overall finish at the season opener at Daytona and a sixth-place finish at Sebring.
Then in April, a serendipitous development came about that indelibly set the course of history for chassis no. 09079. During the annual 4-hour tests at the Le Mans circuit, Georges Filipinetti brought along a 275 GTB/4, chassis no. 09445, evidencing his curiosity about racing the 250's successor in the GT division. Herbert Muller actually set some very fast times in this GTB, impressing the other drivers with the car's unexpected capabilities.
Georges Filipinetti wasn't exactly blown away by the other drivers' times, though, and with Muller already committed to the 412P, he needed to find a team to drive the 275. As it happened, Dieter Spoerry and Rico Steinemann had been denied in their application for the upcoming 24 Hours of Le Mans because too many Porsches were already committed to the race. Thus prohibited from entering their ex-works 906, they were quietly in search of a replacement car, and were delighted when Georges Filipinetti offered them a 275 GTB. But the offer wasn't for 09445. Instead, Georges promised the drivers a brand new car in June, with no hint that the forthcoming Ferrari would be a particularly race-prepared variant of the model.
At Le Mans on June 10, three cars wore the Scuderia Filipinetti livery: Muller's 412 P, a GT40 co-entered with Brescia Corse and piloted by Umberto Maglioli and Mario Casoni, and Spoerry and Steinemann in #28, the brand new 275 GTB Competizione, s/n 09079. Competing mainly against Porsche 911s and Corvettes in the GT Class, the lightweight 275 didn't attract much attention during qualifying, earning a middling 34th place on the starting grid. In fact, 09079 was perhaps most noticed for how dated it seemed, epitomized by a conversation between Mario Andretti and Steinemann during scrutineering. The 275 happened to be parked behind Andretti's new Holman-Moody prepared 7-liter GT40 MkIV, a monster of a racecar. The future Formula 1 champion mockingly asked Steinemann what he planned to do with this museum piece with chrome wire wheels, as the latter driver recounted in an anecdote told in Ed Heuvink's 2001 book, Scuderia Filipinetti (which features several photographs of 09079).
While Andretti's point was understood, by 1967 the 275 GTB/C was a very well sorted model, featuring Ferrari's typical evolution of refinements and improvements during a two-year production period. With the car's minor bugs long since ironed out, 09079 promised to be reliable if not burningly fast. Over the course of the 24-hour endurance race, in fact, the car proved to be far more consistent than the litany of prototypes that retired early, which ironically included Andretti's MkIV. With a strategy of steady, unwavering progress, Spoerry and Steinemann patiently pushed the GTB/C up through the ranks, passing some cars while watching numerous others drop out of the race. By Sunday morning they had entered the top ten, with a commanding lead over the other GT cars.
After some minor brake problems forced a brief pit stop, the 275 settled into eleventh place overall, a position it would hold until the checkered flag waved after the 24th hour. Steinemann and Spoerry averaged 178 kph, ably handling the newer 911s and Vettes in winning the GT class, and far exceeding most everyone's expectations. The performance of the 275 Competizione was also by far the best of the three Scuderia Filipinetti entries, with both Muller's 412P and the Brescia Corse GT40 retiring early. Team members could be seen excitedly waving the Swiss flag as the car drove by during its victory lap into pit lane, an image unforgettably captured in the 1967-1968 Automobile Year review issue.
Always keen to move forward and remain competitive (and to sell cars), Georges Filipinetti offered 09079 for sale soon after the race, initially soliciting Spoerry and Steinemann. The two drivers declined the offer, however, content to return to their Porsche 906. After a potential purchase from an Angolan client also fell through, Filipinetti finally found a taker in French enthusiast and amateur driver Jacques Rey. Mr. Rey was already a part-time member of the Scuderia Filipinetti team, having campaigned an Alan Mann-prepared Mustang under the team's banner at the 24 Hours of Spa in 1966 and 1967. Rey re-registered the car with new Geneva plates reading "GE 51180," and at the Le Mans testing in April 1968 he clocked the 11th fastest lap time, notably being the only Filipinetti team entry.
1968 was a year of change for both motorsports, in general, and the Scuderia Filipinetti in particular. Faced with the outrageous costs of trying to compete with factory-backed racing efforts, and frustrated with Enzo Ferrari's policy of providing his preferred privateer teams with prototypes that were slightly less advanced than Maranello's factory cars, Georges Filipinetti changed to a policy of racing GT cars only.
Severe social unrest across France nearly shut the country down in May 1968, and the 24 Hours of Le Mans race was accordingly changed to a late September date in a rare postponement of the fabled contest. Fitted with four additional bumper-mounted foglamps and entered as #17, Jacques Rey's 275 GTB/C was one of four Scuderia Filipinetti entries in September, joining two Corvettes and Muller in one of the old 250 LMs. Though Rey started in 38th place and was out of the race after only eight hours due to suspension issues, his entry was notable for introducing his co-driver, Claude Haldi, to the Sarthe circuit. Haldi would appear at Le Mans twenty more times over the ensuing decades, including a first-in-class finish in 1975.
Though 09079 was gradually becoming outdated from a competition standpoint by this time, two more great performances remained in its future, starting with the 1969 1000 Kms of Spa-Francorchamps. Rey entered the GTB/C as #58 in Scuderia Filipinetti colors, and with Edgar Berney he drove the car to a first-place finish in the under 3-liter GT class, with a 14th–place finish overall, an impressive outing for a car that was nearly four years old. Rey and Haldi repeated their bid for Le Mans in June, but this time the car was disqualified after the fifth hour for adding oil prior to the point allowed by regulations.
After Le Mans, Jacques Rey departed from the banner of the Scuderia Filipinetti, which was in an increasing state of transition as Georges Filipinetti's health deteriorated and the owner labored to decide the team's future direction. Rey continued to harbor aspirations of racing, though, and from that point on he campaigned the GTB/C under his own name, Rey Racing. On September 14, the beautiful GTB Competizione enjoyed a final swansong of victory when entered as #44 in the 500 Kms of Imola. Driven once again by Rey and Berney, the Ferrari again topped the GT Class, with a 15th-place finish overall among sports-racing giants like Jacky Ickx's Gulf Mirage and Vic Elford's Porsche 908-2.
Heading into 1970, it seems that Rey initially intended to campaign the 275 GTB/C for another season, as he officially entered a 3.3 liter Ferrari GTB for the 1970 Daytona 24 Hours under the mantle of Rey Racing. The car never arrived, however, and the research of author Ed Heuvink suggests that he had already sold 09079 by then to another Daytona hopeful, Phil Henny of California. According to Heuvink's account, damage to one of the engine pistons prevented Henny from entering the Competizione at Daytona as planned. In any event, after a successful and riveting run in GT Class endurance competition among some of the world's most powerful cars, including several first-in-class finishes, 09079 was finally retiring from racing.
LIFE AFTER RACING
After paying 6,000 Swiss francs for the car, California resident Phil Henny brought 09079 to the United States, and by the mid-1970s it was owned by a Mr. Cochran. Passing though successive owners David Clark, Pierre Major, and John Rudolph, the Ferrari settled in to the collection of James Wallace of California by 1979. Wallace exhibited the GTB/C at Mark Dees' annual Picnic and Ferrari meeting in May 1981, and three years later at the Monterey Historic Races and the concurrent Ferrari International Concours the owner again displayed the car, now re-registered with California plates reading "275 GTB C."
After incurring body damage during a fire in Wallace's garage, chassis no. 09079 was offered through European Auto Sales of Costa Mesa, California, and the car was purchased in April 1985 by Swiss investment broker Charles Gnadinger. The Swissman, in turn, re-sold the car to Sant'Agata Bolognese resident Bruno Zambelli, who initiated the car's return to glory. Starting in 1985, Mr. Zambelli commissioned a comprehensive restoration performed by Modena's finest craftsmen.
Completed in 1987, the refurbishment included proper blue cloth seats and matching blue leather upholstery, as well as a new aluminum alloy body made to exacting standards by the Carrozzeria Egidio Brandoli of Montale, Italy. Brandoli is often used by Ferrari S.p.A. as the company's coachbuilder of choice for premium restorations, and often utilized by its in-house heritage and restoration department, Ferrari Classiche. This choice therefore ensured the highest possible level of authenticity in the coachwork, which perfectly matched the original body's deft proportions and thin-gauge aluminum skin. Mr. Zambelli then registered the freshly restored 275 Competizione with Bologna tags reading "BO D 43278," and eventually exhibited the car at the Coppa Intereuropa Autostoriche at Monza in May 1992.
In August 1997, the GTB/C was acquired by Japanese enthusiast and collector Mr. Yoshikuni Okamoto. Mr. Okamoto would go on to show the car in June 1999 at the Forza Ferrari meeting of the Ferrari Club Japan, which was held at the Suzuka race circuit. In the early part of 2006, while still owned by Mr. Okamoto, 09079 was shipped back to the United States, to be prepared for its presentation at the Pebble Beach Concours d'Elegance in August. Renowned Ferrari specialist Richard Freshman and his restoration business, Fossil Motorsports, working in conjunction with TSR, was elected for the job, which ultimately resulted in 09079 undergoing a complete, no expense spared restoration to the exact 1967 Le Mans class winning specification. The Ferrari's mechanical systems were refurbished, and the paint was redone to the highest possible standard, while the interior was again re-upholstered in the correct blue materials, in anticipation of the rigorous competitive judging standards it would encounter at its Pebble Beach debut. Once the work was completed, the car was tested and detailed, and upon judging at Pebble, 09079 took second in its class, narrowly losing First in Class by mere few 10ths of a point to the prototype Ferrari 250 Testa Rossa, chassis no. 0666TR. Being outdone by such a rare and historically significant sports racing car was certainly no indignity.
Shortly after the Pebble Beach showing, 09079 sold to British enthusiast Ross Warburton. An avid vintage racer, Mr. Warburton registered the GTB/C with British license plates, "MNN 729 D," and retained Gelscoe Motorsport Ltd. of Diseworth, Derby, to service and maintain it as needed. Obtaining an MSA Technical Passport for the car in April 2008, Warburton soon undertook a campaign in vintage racing, starting with the Le Mans Classic in July, where he finished fifth in plateau. This occasion also coincided with the vehicle's display at the Le Mans Classic Heritage Exhibition. In June 2010 the Ferrari won the Italian Historic Car Cup, and a month later took sixth place at the Silverstone Classic. Subsequently participating in the Tour Auto in France in April 2012, Warburton also ran 09079 again at the Fordwater Trophy race at the Goodwood Revival in September 2012.
In February 2013 the 275 GTB/C was purchased from Warburton by the consignor, a Ferrari enthusiast residing in the United States. In his custody the rare Competizione would soon see its rich history properly recognized and celebrated in proper Maranello style. Esteemed marque experts GTO Engineering Ltd. of Berkshire, England, were commissioned to address the car's minor needs, and they soon determined that Mr. Warburton had removed numerous original components (such as the radiator and fuel tanks) and replaced them with modern ones better suited for today's racing performance. As the original parts were put aside and saved, GTO Engineering set about the task of reinstalling them and refurbishing other small details to a more authentic state of presentation. (It should be noted that the modern parts have been retained for the future owner who might wish to return the car to historic racing competition.)
Including a rebuild of the exhaust system and clutch, GTO Engineering's work refreshed 09079 to factory-correct standards, paving the way for certification of authenticity by Ferrari Classiche. The consignor then presented the impeccably detailed car in January 2014 at the XXIII Palm Beach Cavallino Classic in a special gathering of several of the 275 GTB Competizione cars.
In October 2014, chassis no. 09079 enjoyed the distinguished privilege of being invited by Ferrari to take part in Driving Through the Decades, the 60th Anniversary celebration of Ferrari North America held in Beverly Hills, California. The Competizione was one of just sixty special Ferraris from across America chosen for display on the Sunday morning concours on Rodeo Drive, a rare honor and indication of just how significant the car is among Ferrari's greatest motorcars. The 275 GTB/C was also featured in a recent issue of Octane magazine in a rollicking article penned by noted journalist and esteemed Pebble Beach judge Winston Goodfellow.
A three-time participant in the GT Class at the world's greatest endurance race, and boasting the 1967 GT Class win at the 24 Hours of Le Mans, chassis 09079 offers impressive race provenance, rarity, and specialty of construction. It is the second-to-last GT car ever built by Ferrari's factory competition department, representing a long line of important models dating to the 340 Mexico and 166 MM. An indelible component of the famous Scuderia Filipinetti, one of Ferrari's four factory-preferred privateer teams, this Competizione GTB is certified by Ferrari Classiche and accompanied by an original factory build card, promising to draw major consideration at world-class Concours d'Elegance and prestigious Ferrari events. It is has been celebrated by Ferrari North America as one of the most important cars in Ferrari's storied history, and now offers an unparalleled opportunity to acquire a verifiable motoring legend." [/showhide]