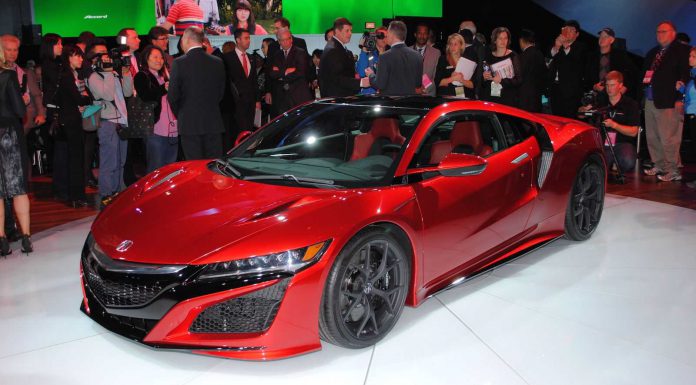 Honda has opted to unveil the second-generation 2016 Honda NSX at the ongoing Detroit Motor Show 2015. The car debuts 25 years after the original NSX and features a design similar to the concept from 2013. We saw it live.
Powering the 2016 Honda NSX is a twin-turbocharged double overhead cam V6 engine mated to a nine-speed dual-clutch transmission and joined with no less than three electric motors. One of those electric motors powers the rear wheels while the other two send power to the front wheels to make the 2016 Honda NSX all-wheel drive. Performance specifications have yet to be revealed nor have horsepower and torque ratings.
Another key utilisation of the new Honda NSX is its Sport Hybrid Super-Handling All Wheel Drive system which includes four different driving modes of Quiet, Sport, Sport+ and Track. When the Japanese supercar is switched between these modes, the engine, electric motors, transmission and chassis will all respond in different ways with Quiet mode seeing the car powered purely by electric power and the other three seeing the electric motors working in conjunction with the V6 engine.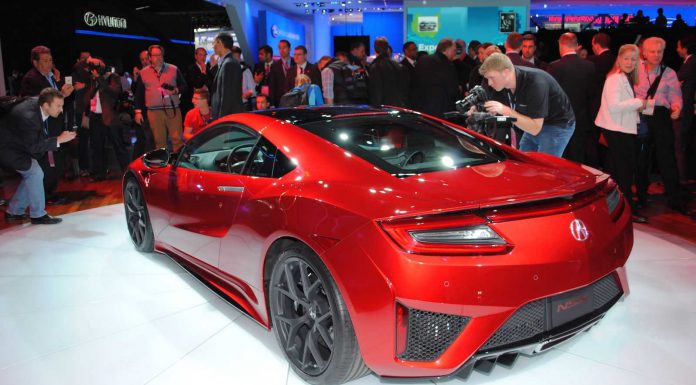 Build wise, the 2016 Honda NSX includes a carbon fibre floor as well as a space frame made from aluminium as well as high-strength steel. Fully independent front and rear suspension also features and to keep weight down, the suspension components are made from aluminium. Honda has opted for 19×8.5 inch wheels at the front and 20×11 wheels at the rear with Continental tyres that are 245/35 and 295/30.
For more from the Detroit Motor Show 2015, see our dedicated news channel. For more about the 2016 Honda NSX, see our previous post!