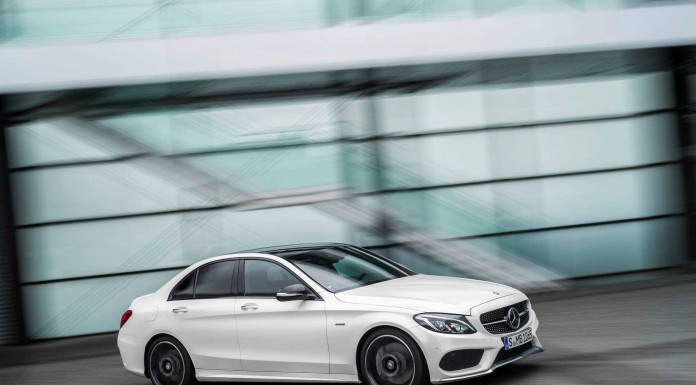 The covers have been taken off the 2015 Mercedes-Benz C450 AMG 4Matic before the Detroit Motor Show 2015 as part of the German firm's second model in its new AMG Sport series. When the Mercedes-Benz C450 AMG 4Matic reaches the market in June, it will be available both as a sedan and estate.
Powering the Mercedes-Benz C450 AMG 4Matic is a 3.0-litre twin-turbocharged V6 engine. It delivers the same 362 hp at 5500 rpm and 382 lb-ft of torque between 2000 and 4200 rpm as the GLE450 AMG Coupe. As the name suggests, this power is sent through all four wheels via the company's 4Matic all-wheel drive system via a 7G-Tronic seven-speed gearbox. This transmission has been slightly tweaked for use in the C450 AMG 4Matic compared to the AMG C63.
When it is all said and done, the C450 AMG 4Matic accelerates to 100 km/h in 4.9 seconds in sedan guise as well as 5.0 seconds flat with the estate body style. Top speed sits at an electronically limited 250 km/h. Alongside the performance figures, the Mercedes-Benz C450 AMG 4Matic can achieve 37.2 mpg on the combined fuel economy cycle while emitting 178 g/km of CO2 emissions.
Visually, the Mercedes-Benz C450 AMG 4Matic features a plethora of tweaks over other C-Class variants. For example, it features enlarged air intakes, extended side skirts, a small bootlid lip spoiler while a subtle rear diffuser and quad tailpipes can also be found.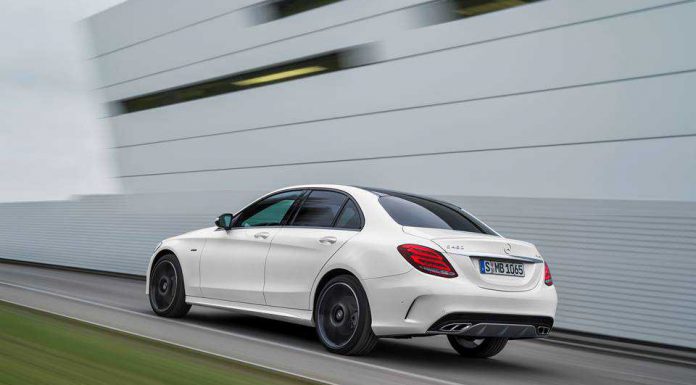 For the C450 AMG 4Matic, the 4Matic system has been fettled with to send 33 per cent of power to the front wheels and 67 per cent of power to the rear.
From a chassis standpoint, the C450 AMG 4Matic sits somewhere between standard C-Class models as well as the range-topping C63. With that in mind, it includes modified front pull rods, three-stage adjustable dampers, revised steering knuckles, negative camber, firmer springs than the regular C-Class as well as brand new load bearing joints. Rubber used at the front is 225/45 tyres while at the rear, the 18×8.5 inch wheels feature 245/40 shoes.
Other upgrades from typical Mercedes-Benz C-Class models found on the Mercedes-Benz C450 AMG 4Matic are beefed up brakes which now measure 360 mm at the front and 320 mm at the rear.