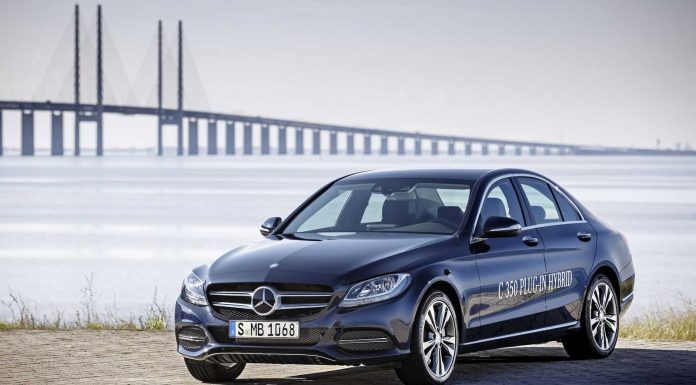 The 2015 Mercedes-Benz C350 Plug-in Hybrid has been unveiled at the Detroit Motor Show 2015. It is the second plug-in hybrid Mercedes-Benz offers alongside the S500 Plug-in Hybrid and marks the introduction of more affordable hybrid variants of German sedans and will be joined by a BMW 3-Series hybrid and Audi A4 hybrid in the near future.
Powering the Mercedes-Benz C350 Plug-in Hybrid is a 2.0-litre four-cylinder engine mated to a brushless electric motor found within the gearbox housing. All told, the C350 Plug-in Hybrid delivers a total of 275 hp and 442 lb-ft of torque with 80 hp and 251 lb-ft of that being produced by the electric motor alone. Drive is then sent to the rear wheels via a 7G-Tronic seven-speed automatic transmission which utilises an automated clutch. This means the clutch is opened when the car is running purely on electric power to reduce mechanical drag.
The engine combined with rear-wheel drive and automatic gearbox sees the 2015 Mercedes-Benz C350 Plug-in Hybrid accelerate to 100 km/h in 5.9 seconds with the sedan and 6.2 seconds in estate form. For the Mercedes-Benz C350 Plug-in Hybrid, the top speed sits at 250 km/h and that decreases slightly to 246 km/h for the C350 Plug-in Hybrid Estate.
As you'd expect from a hybrid model, Mercedes-Benz has focused heavily on ensuring the C350 is as efficient as possible. With that in mind, it records 134.5 mpg over the European test procedure as well as emitting 48 g/km of CO2 in the sedan and 49 g/km of CO2 as the estate.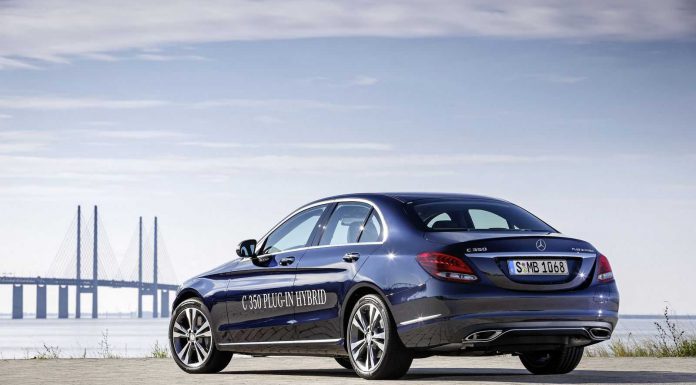 In typical Mercedes-Benz fashion, a number of different driving modes are available for the C350 Plug-in Hybrid. They are Economy, Comfort, Sport, Sport Plus and Individual with four operating modes also making the C-Class hybrid run. These are Hybrid, E-mode, E-save and Charge. As the name of E-mode suggests, it is pure electric mode and can power the C350 Plug-in Hybrid for approximately 31 km.
It takes about two hours to fully recharge the battery via a traditional 240 volt powerpoint. Another interesting element of the Mercedes-Benz C350 Plug-in Hybrid is its utilisation of a haptic accelerator which varies accelerator pedal resistance.