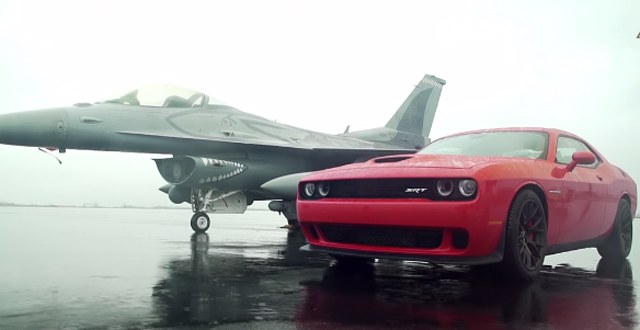 Races between high-end performance cars and fighter jets may be completely irrelevant in determining the power of either machine let alone influence a buyer's decision whether or not to commit to a certain car but they are always popular and always entertaining. The following video courtesy of Drive and Alex Roy sees a new Dodge Challenger SRT Hellcat pitted against an F16 Fighter Jet.
[youtube]https://www.youtube.com/watch?v=ewRYQkAqVZg#t=39[/youtube]
Under the hood, the 6.2-litre supercharged V8 engine of the Dodge Challenger SRT Hellcat pumps out a truly spectacular 707 hp and 650 lb-ft of torque! To help limit power of the new SRT Hellcat in not-ideal situations, it comes standard with a black key fob which limits power to 500 hp while the red key fob unlocks the full potential of 707 screaming horsepower! This power comes courtesy of a 6.2-litre HEMI V8 supercharged engine which we now know is the most powerful engine the Chrysler Group has ever produced.
However, the following race was held in the rain meaning the potent American muscle car had great difficulty in putting its immense power to the ground. So which of the two comes out on top? Well watch the video above to find out!