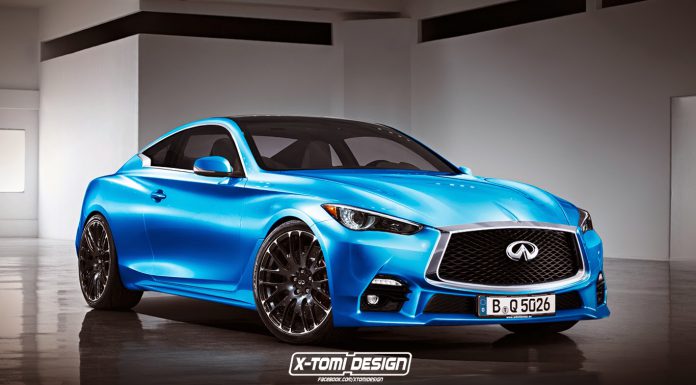 While the covers were only just taken off the Infiniti Q60 Concept, word on the street is that the car will reach the market as a rival to the BMW 4-Series. While Infiniti has yet to confirm or deny these rumours, X-Tomi Design has decided to 'productionise' the Q60 to give us an idea of how it could look if given the thumbs up for series production.
Compared to the concept, the car rendered features a slightly revised front grille while also incorporating a new lower front bumper section with fog lights installed. Additionally, a new set of black wheels have been added to the car.
As for the Infiniti Q60 Concept itself, much of the design has been drawn from the Q80 Inspiration. As a result, it features similar flowing lines alongside a menacing and bold front fascia. Additionally, similar elements to the Infiniti Q50 Eau Rouge Concept can be found across the Q60 particularly with the similar gills behind the front wheel arches.
Another key design element of the Infiniti Q60 Concept are the large, 21-inch wheels which have been inspired by jet turbine blades and incorporate black spokes with hints of chrome and matte finishes. As the car has been designed as a sporty, 2+2 coupe, Infiniti designers also focused heavily on the car's cabin. With that in mind, sport seats have been installed for front and rear occupants alongside a variety of different quilted leathers.
[Via X-Tomi Design]