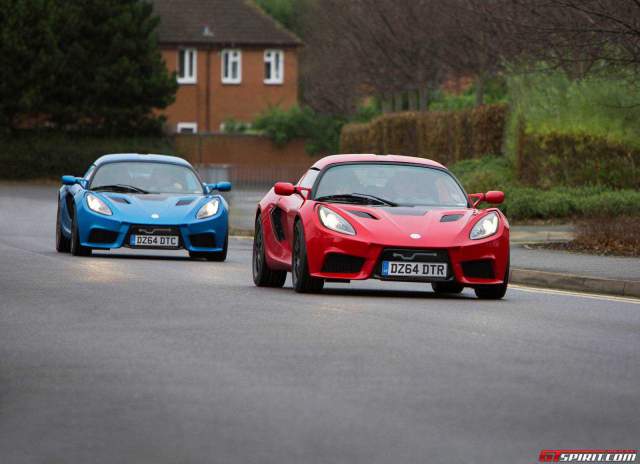 Final details about the Detroit Electric SP:01 sports car have been revealed before production kicks off in a few months. The latest announcement includes the finalisation of the interior and exterior designs of the electric sports car as prototypes commence testing near the firm's production facility in Leamington Spa in the UK.
The most dramatic change to the final design of the Detroit Electric SP:01 compared to previous prototypes is the abandonment of two flying buttresses in favour of a fastback configuration. Additionally, Detroit Electric has installed an under-body diffuser to minimise lift while also increasing downforce. Another key change is the inclusion of a large rear wing.
When the Detroit Electric SP:01 officially launches, customers will be able to option a carbon fibre rear spoiler, diffuser and battery cover. Colour choices consist of Performance Black, Performance Blue, Performance Green, Performance Orange and Performance Silver alongside Special White and Special Red.
The interior of the SP:01 is characterised by an 8.4-inch touchscreen infotainment system. The system uses an Android operating system and can be used to control everything from the music player through to the air conditioning and heater systems as well as satellite navigation. Additionally, the Detroit Electric Smartphone Application Managed Infotainment system displays telemetry for the sports car.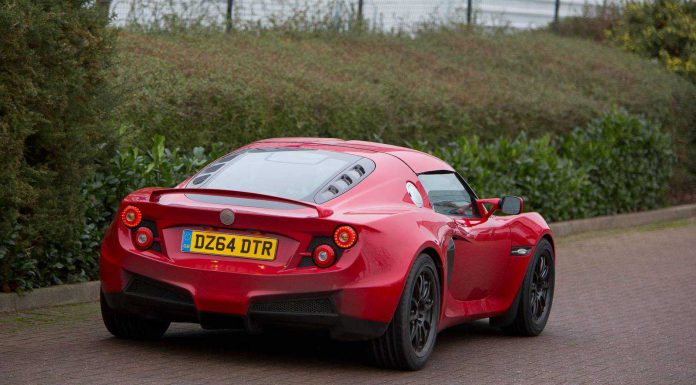 Other key interior elements of the SP:01 include Alcantara sports seats, power electric windows, central locking, embroidered floor mats as well as Bluetooth. A number of different finishes are then available for customers.
As a reminder, the Detroit Electric SP:01 features an electric motor delivering 285 hp. This motor can be mated to a manual transmission with a single-speed and twin-speed automatic transmissons also available. All told, the SP:01 hits 100 km/h in 3.9 seconds and a 249 km/h top speed.
[showhide]
"Exterior and final interior designs for SP:01 pure-electric sports car revealed
On-road testing of SP:01 under way, ahead of start of production in early 2015
SP:01 features bold new fastback design and futuristic, sporty interior
Range of interior and exterior enhancements available at introduction
Detroit Electric announces the appointment of Integrated Energy of South Korea as its first importer and distributor in Asia
DETROIT, USA – January 6, 2015: Detroit Electric has revealed the confirmed interior and exterior designs of its SP:01 pure-electric sports car, the next significant step in the re-birth of the iconic electric vehicle brand. Pre-production prototypes are currently undergoing extensive testing at Detroit Electric's state-of-the-art production facility in Leamington Spa, UK, ahead of the start of production in early 2015.
The lightweight SP:01 will be the world's fastest pure-electric production two-seater sports car when it goes on sale in Asia, Europe and North America next year. The SP:01 features a 285 HP / 210 kW electric motor, carbon fibre body panels and manual transmission as standard. An optional single-speed and twin-speed automatic transmission are also available. The SP:01 promises to deliver blistering acceleration, reaching 0 to 60 mph in 3.7 seconds (0-100 km/h in 3.9 seconds) and an impressive top speed of 155 mph (249 km/h).
Exterior design
The design of SP:01 has been subtly updated since the prototype was unveiled at the 2013 Shanghai Motor Show, to further improve the vehicle's aerodynamic performance. The changes to SP:01's design ensure that it will deliver on its promise to set new standards for performance and handling in the EV segment.
The most striking element of the design is the new fastback configuration, which replaces the prototype's flying buttresses on either side of the rear window. A large sculptural rear wing and under-body diffuser have also been incorporated to reduce lift and improve handling at higher speeds.
A range of exterior styling options will be available from launch, including a carbon-fibre rear spoiler, diffuser and battery cover. Metallic paint options for the SP:01 include Performance Black, Performance Blue, Performance Green, Performance Orange and Performance Silver, as well as 'Special White' and 'Special Red'. Customised paint colours are also available.
Interior design
In harmony with the bold exterior, the cabin of the SP:01 evokes the brand's mantra of 'Pure Electric Performance' through a futuristic, sporty design, with sweeping lines and bold shapes suggesting speed, agility and athletic poise.
In order to create a clean, streamlined cabin, the SP:01's centre console features a prominent 8.4-inch touchscreen tablet, which replaces all analogue dials and switches on the fascia. Detroit Electric's SAMI (Smartphone Application Managed Infotainment) application utilises an open-source Android operating system, which provides access to a wide range of functions, including music player, HVAC (heating, ventilating and air conditioning), satellite navigation and vehicle systems status, such as battery charge, V2X (Vehicle-to-Grid and Vehicle-to-Home) and other vehicle telemetry.
Via mobile connectivity, SAMI can also be used to make mobile telephone calls, stream data and access the internet, while providing remote access to a range of vehicle functions, including the control of charging/discharging, climate control, and full vehicle telemetry. The open-source platform will enable Detroit Electric's customers to access apps developed by third parties via SAMI's in-car interface, providing numerous opportunities to enhance the user experience.
The SP:01 offers a choice of leather or Alcantara sports seats (black, with body-colour accents), power electric windows, power central locking, ambient cabin lighting, embroidered floor mats and Bluetooth connectivity. Customers can also choose to personalise their vehicle with seating and interior décor options, including coloured leather seats (red, beige, tan and black) or two-tone leather seats (black with a choice of red, beige, blue, orange or grey), and optional leather trim for door panels, door sills and dashboard.
A selection of bespoke alloy wheels, designed by Detroit Electric's Head of Design, Jerry Chung and named 'Anderson Diamond', 'Anderson Satin' and 'Anderson Gloss' after the founder of Detroit Electric, William C. Anderson, will be available at launch.
Distributor partnerships
As Detroit Electric builds up to the start of full-scale production, the company recently announced the appointment of Integrated Energy as its official importer and distributor in South Korea. As part of the agreement, the first Detroit Electric showroom in Asia is scheduled to open in Seoul in early 2015. Detroit Electric and Integrated Energy will further extend their cooperation to develop V2X (Vehicle-to-Grid and Vehicle-to-Home) technology by establishing a pilot programme in Jeju Island, South Korea, with a fleet of vehicles supplied by Detroit Electric.
"This is a strategic step in the development of Detroit Electric business in the global market and we are delighted to partner with Integrated Energy to deliver our high performance vehicle and services to Korean customers," commented Albert Lam, Chairman and Group CEO of Detroit Electric. "With the vision beyond the EV business, the joint V2X pilot project in Jeju Island with Integrated Energy will certainly be a showcase of our innovative technology and sustainable business model."
Detroit Electric was revived in 2008 by Albert Lam, former Group CEO of the Lotus Engineering Group and Executive Director of Lotus Cars of England, with a vision to produce an electric vehicle that seamlessly integrates refined aesthetics, innovative technology and superior handling and performance. For more information on Detroit Electric visit www.detroit-electric-group.com
-Ends-
Notes to editors:
Images
Two pre-production SP:01 vehicles being tested close to Detroit Electric's UK facility at Leamington Spa, UK
The interior of the Detroit Electric SP:01″[/showhide]