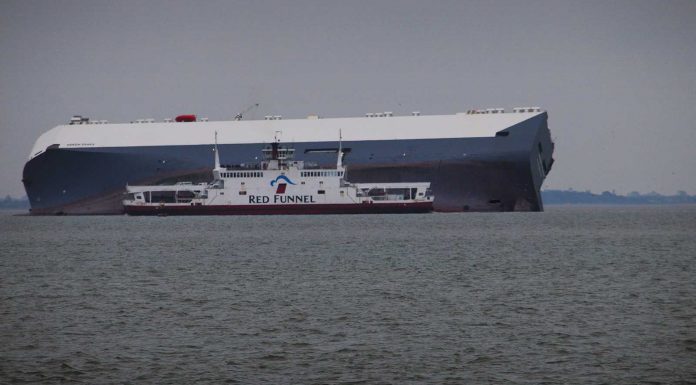 Salvage teams working on the car transporter ship beached off the UK coast with its export cargo of 1,400 new vehicles, mainly Jaguars and Land Rovers, have announced plans to attempt to refloat the vessel tomorrow morning, January 7.
The 52,000-tonne Hoegh Osaka was deliberately run aground on a sandbank between Europe's largest refinery at Fawley and the Isle of Wight at the weekend after developing a 52-degree list as it left the UK's largest vehicle handling port of Southampton, through which 750,000 vehicles a year are exported.
It is carrying 1,200 Jaguars and Land Rovers worth tens of millions of euros, 65 new Minis worth around 1.5 million euros, and 105 JCB heavy plant and agricultural vehicles weighing up to 55 tonnes, again worth "many millions".
The salvage team said that some of the larger vehicles had moved in the drama and one excavator had punched a hole in the ship's side but any leaks had been sealed and on high tide today the ship was "light" in the water and "moved a little".
A spokesman said there would be two tugs standing by and an external system would be used to adjust the ballast, with the aim of towing the Hoegh Osaka to a safe anchorage away from the main shipping channels and ensuring the ship was stable before towing it back to the main port of Southampton from which it had set sail for Bremerhaven in Germany on Saturday.