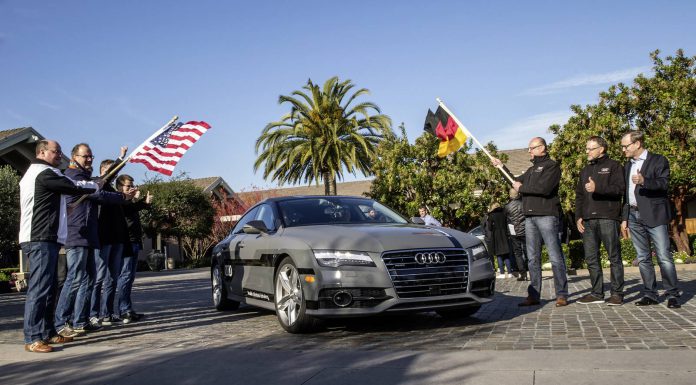 A couple of months ago, the Audi RS7 Piloted Driving Concept Car completed an unassisted flying lap of the Hockenheimring. Since then, the German firm has continued to develop the concept and recently embarked on a 550 mile piloted drive from Silicon Valley through to Las Vegas for CES 2015 in a slightly less powerful A7 variant.
Throughout the long journey, numerous journalists got behind the wheel as part of the drive which helped showcase Audi's advanced autonomous driving system. The Audi A7 Piloted Driving Concept relieves the driver of duties from a standstill until just over 110 km/h and can also make its own lane changes and passing manoeuvres. Additionally, the A7 Piloted Driving concept has the ability to accelerate and brake independently.
Back in the middle of October, we had the privilege of getting in the driver's seat of the more potent Audi RS7 Piloted Driving Concept.
Allowing the RS7 Piloted Driving Concept to drive itself are a plethora of advanced features including ultrasonic sensors, a front mounted camera, infrared camera and front radar sensors. These are used for systems like the adaptive cruise control, lane assist, parking assist, night vision and Audi pre sense safety. On the special Audi RS7 Piloted Driving Concept the engineers mounted two extra 3D cameras in the front, two extra 3D cameras in the rear and a special GPS module on the roof. Add a rack of hardware in the back and link it up to special software and the Audi RS7 is pretty much good to go as an autonomous race car.