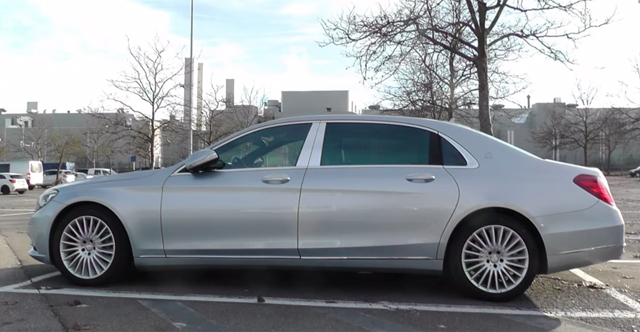 The first footage of a production-spec Mercedes-Maybach S600 on the streets has emerged with this particular silver example filmed in a carpark.
The 2015 Mercedes-Maybach S 600 is 20 cm larger in both length and wheelbase than the long-wheelbase S-Class Saloon. Rear passengers benefit from the increased length with standard equipment that includes executive seats on both left and right and other exclusive details such as innovative voice amplification. The Mercedes-Maybach S-Class is said to be the world's quietest production saloon car.
[youtube]https://www.youtube.com/watch?v=E_MPeyDDsi0#t=15[/youtube]
As we have already revealed, Mercedes-Maybach will be offered as a new sub-brand to the Mercedes-Benz brand, much in the same way as Mercedes-AMG. The cars will be exclusive, spacious and lavishly designed; targeted at the most discerning customers worldwide.
The Mercedes-Maybach S 600 gets a 6.0 litre V12 biturbo engine with an output of 530 hp. Maximum torque of 830 Nm is available from 1900 rpm. As second model, the 4.6 litre V8 biturbo engined Mercedes-Maybach S 500 generates an output of 455 hp and peak torque is 700 Nm. NEDC combined fuel consumption for the saloon is 31.7 mpg (premium petrol). CO2 emissions are 207 g/km.
Beyond the S600 and S500 variants, an S400 will hit the market and be powered by a 3.0-litre V6 tuned to extract 333 hp and 354 lb-ft of torque. The Maybach S400 will also be available solely with the firm's 4Matic all-wheel drive system and has been created specifically with Chinese buyers in mind.