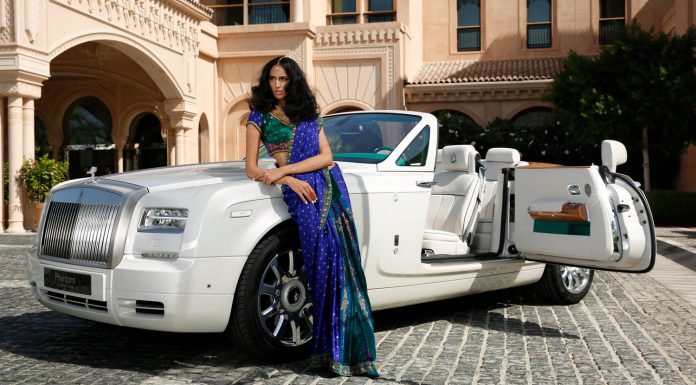 Fashion magazine Femina Middle East recently organised an Indian-style photoshoot of the recently revealed Rolls-Royce Maharaja Phantom Drophead Coupe.
Interestingly despite being limited to customers in Dubai, the Rolls-Royce Maharaja Phantom Drophead Coupe actually celebrates Indian culture and consequently features an Emerald Green coachline as well as Peacock emblems which is the national bird of India.
Beyond the green coachlines, the Maharaja Phantom Drophead Coupe features a Carrara White paint job, a dark green soft-top as well as some green accents in the cabin. The interior also includes Crème Light leather, special embroidered headrests and further hints of the Peacock throughout.
The car was created to help celebrate a very interesting point in the history of Rolls-Royce. 100 years ago, the Princes and Maharajas of India purchased over 840 bespoke Rolls-Royce models over five decades "in what is described as one of the world's longest relationships with one automobile manufacturer."
Discussing the car, General Manager at the local AGMC Rolls-Royce showroom in Dubai said, "Dubai is the only market in the world to receive this extraordinary, one-of-a-kind Bespoke Phantom Drophead Coupé, which has been two years in the making – not only an incredible coup for us, but also a strong reflection of the importance that Rolls-Royce Motor Cars places on this market."