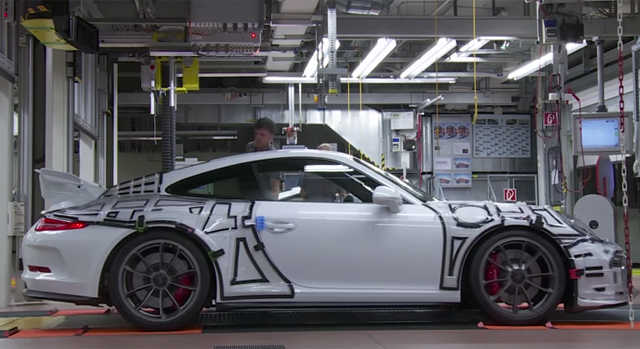 The Porsche 911 GT3 has always been considered one of the world's best sports cars and the 991-generation model is absolutely no different. In order to give us a better idea of some of the testing which a new 911 GT3 goes through, the following clip has been posted online.
[youtube]https://www.youtube.com/watch?v=oEk65_At1c4#t=158[/youtube]
The relatively short video looks at just some of the testing procedures each and every 911 GT3 is taken through before hitting the streets. The testing is done on the assembly line at the German firm's Stuttgart-Zuffenhausen factory and includes simulated driving scenarios with a key focus on ensuring the 911 GT3 can handle even the harshest road conditions.
As a reminder, the Porsche 911 GT3 gets a 3.8-litre flat engine developing 475 hp at 8250 rpm. It is an adaption of the engine used in the current generation Porsche Carrera S but with only a few common parts. The engine weighs around 25 kg less than the previous unit with a power output of 125 hp/litre of displacement.
Performance is as follows, 0 to 100 km/h is passed after just 3.5 seconds, and 200 km/h in less than 12 seconds. The top speed of 314 km/h is reached in seventh gear of the PDK transmission. The lap time on the Nürburgring-Nordschleife was a very impressive 7:30 minutes. The last statistic is particularly important as around 80 per cent of Porsche 911 GT3 customers also drive their cars on race tracks.