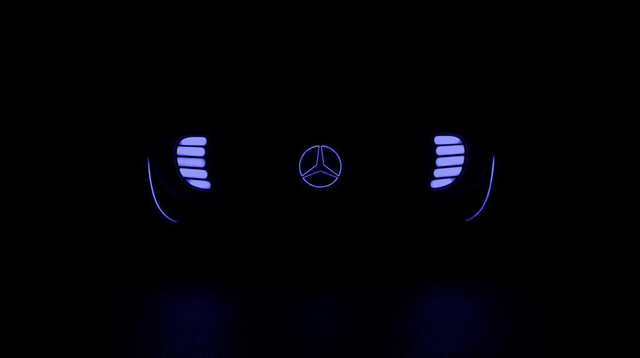 A selection of new teaser images for the upcoming Mercedes-Benz autonomous concept debuting at CES 2015 have been released.
As previous teasers have shown, the German firm's autonomous concept will be unlike any of its production cars from a styling standpoint. With that in mind, it features a selection of illuminated features at the front fascia including a glowing blue Mercedes-Benz logo and blue lights in place of the air intakes.
Elsewhere, we know that the Mercedes-Benz concept for the Consumer Electronics Show 2015 will feature a swooping roofline alongside short front and rear overhangs. The profile will ensure the concept is extremely spacious inside to provide the ultimate in comfort and luxury for occupants.
With this in mind, the new Mercedes-Benz concept will feature four seats which face each other. The front two will swivel and can also face forward in the fully autonomous car. Additionally, a central table will be featured in between the four seats making for a mobile living room. Elsewhere, there is wood across the floor, a glass roof as well as high-quality leather throughout.
When recently discussing the car with Motoring, Daimler AG head of design Gorden Wagener said, "With this concept we are defining the luxury of the future. We have evolved an interdisciplinary scenario and thought through the freedoms that autonomous driving brings: more space, more time, more ways to interact."