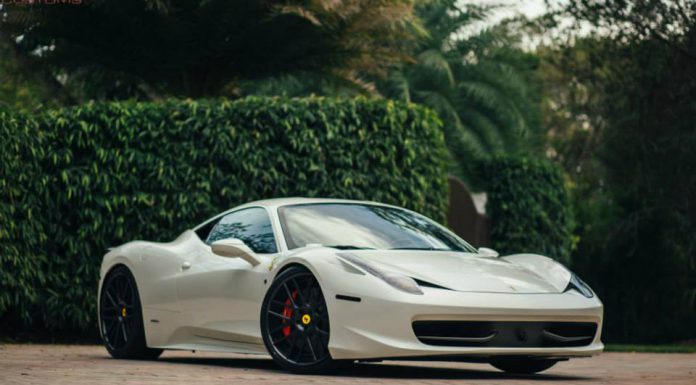 Miami-based MC Customs keep working the magic on latest models in the Ferrari 458 Italia range, here with a berlinetta shown immaculate in white fitted with satin black Vellano forged wheels completed with carbon fibre rims revealing the big carbon ceramic brakes.
Caught in a jet-set setting, the Ferrari 458 Italia – finished here with dark tinted rear lights – is the first Ferrari to have a mid-rear mounted direction injection engine, the award-winning power plant producing 570 hp when red-lining at 9,000 rpm, with 540 Nm torque at 6,000 rpm.
With 7-speed dual-clutch F1 gearbox, it rockets from standstill to 100 km/h in just 3.4 seconds on its way to a maximum of 325 km/h. The clean lines are maintained by air cooling for the engine by intakes in the aerodynamic underfloor in a system that increases rear downforce as the big rear diffuser does its work.
The stiff new aluminium chassis with new alloys incorporates aerospace industry-derived manufacturing and bonding techniques while the bodystyling is the work of Pininfarina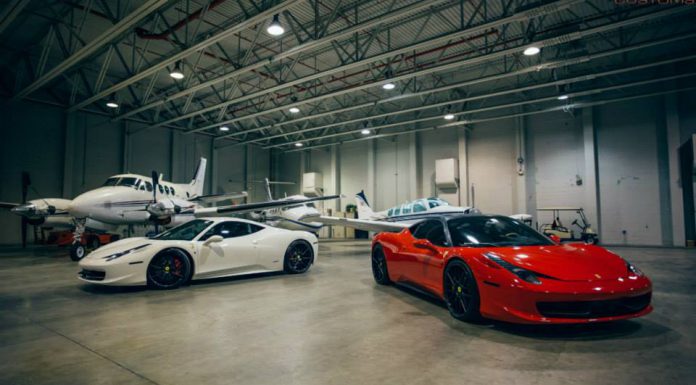 MC Customs also recently revealed a Ferrari 458 Italia Spider stunningly finished in a dazzling all-gold, but they don't just specialise in Ferraris, this tuning shop has a great track record with a wide range of high-performers.