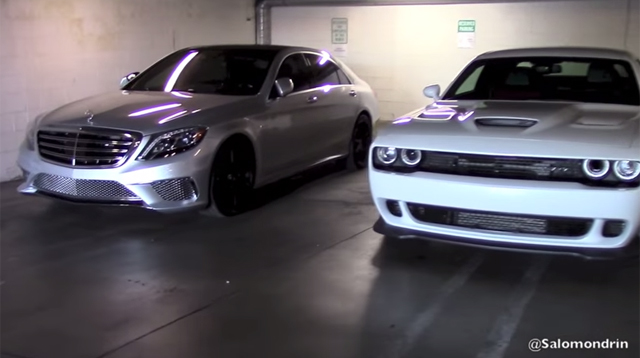 Prior to the launch of the Dodge Charger SRT Hellcat, the Mercedes-Benz S65 AMG was the world's most powerful production sedan. But what sounds better, the 6.2-litre supercharged V8 engine powering the Challenger SRT Hellcat in this case or the twin-turbocharged V12 from the Mercedes-Benz S65 AMG?
[youtube]https://www.youtube.com/watch?v=nB5paqkiDrc#t=37[/youtube]
Well the following video provides a side-by-side rev-battle between the duo and both certainly sound good. If you could choose just one however, which would it be?
On the spec sheet, the twin-turbo V12 from the S65 AMG manages to pump out 630 hp and 1000 Nm of torque resulting in a sprint to 100 km/h in just 4.3 seconds. By comparison, the Dodge Challenger SRT Hellcat delivers 707 hp and can hit 100 km/h in the 3 second range.