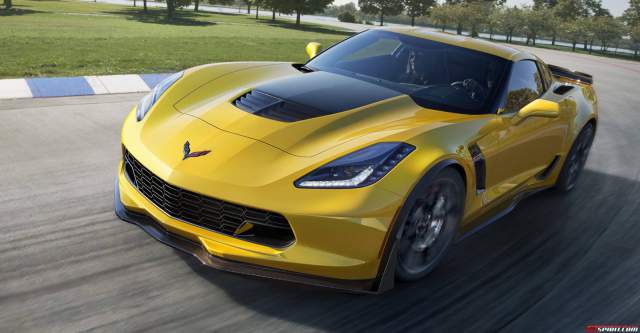 With 650 hp and 650 lb-ft of torque being extracted from the 2015 Chevrolet Corvette Z06's engine, the brand new American sports car certainly faces some tough competition to succeed. Since being launched, we've seen the new Corvette Z06 delivering more than expected on the dyno while also suffering on track and in successive drag races due to its conservative ECU. Now the very first reported case of a Z06 engine blowing up has emerged.
The news comes courtesy of the Corvette Forum where a member who recently took delivery of a 2015 Z06 had the car's engine give out. The new owner was apparently putting miles on the car during its break-in period before attending a track day at Road Atlanta from January 10th.
While accelerating from 56 km/h (35 mph), the owner "shifted short of redline and boom — the car began knocking. I pulled over and popped the hood. I could hear a loud knock coming from the No. 6 cylinder area along with a serious, grinding, metal-on-metal sound coming from the supercharger area."
The 2015 Chevrolet Corvette Z06 was taken to a local dealer where it was confirmed the No. 6 cylinder valvetrain had failed. Further analysis of the engine is being conducted by General Motors. Incredibly, the engine had covered just 891 miles when it died.
Fortunately, a new engine will be installed in the American sports car under warranty.
[Via Motor Authority]