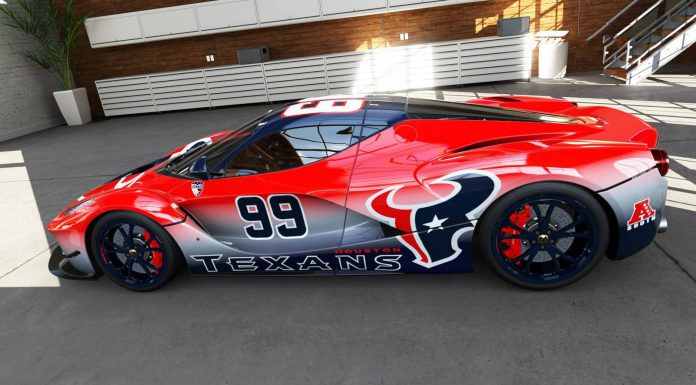 There's no disputing Ferarri's LaFerrari is a Star car, so what more dynamic way to render it for Lone Star State Texans than in the colours of NFL muscleman J.J. Watt.
Complete with the football player's '99' numbering, his team the Houston Texans' bull motif and striking complementary colour scheme, the rendering above displayed by Houston's customisation specialist EVS Motors is certainly a stunner.

But then electricity is a key to LaFerrari with its F1-derived HY-KERS kinetic energy regeneration system – with lithium ion battery pack plus electric motor giving 160 hp and 200 Nm torque to increase the power of the 6,262cc naturally aspirated V12 engine's 790 hp at 9,000 rpm and 700 Nm torque to 950 hp and 900 Nm.
It takes something like Watt's power to extra illuminate the 950bhp that rockets the hypercar from standstill to 200 km/h in seven seconds, 300 km/h in 15 seconds and on to 350 km/h. The standard bodystyle is as pictured in our gallery by Nick Williams of NWVT.co.uk from a show at Mulgari Automotive in the UK.
What do you think about this amazing JJ Watt edition of the Ferrari LaFerrari for the Houston Texans?