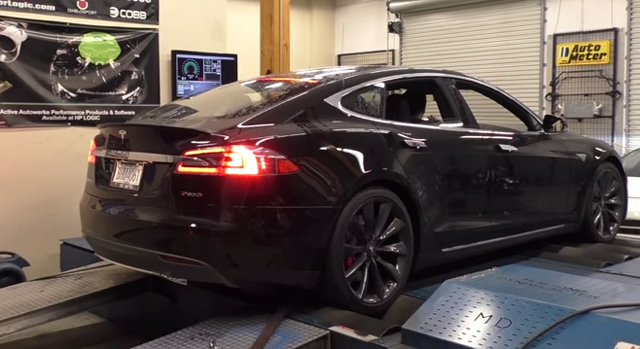 With customer deliveries of the potent Tesla Model S P85D recently commencing, we've already seen how the car compares to a Ferrari 550 and a blue Lamborghini Aventador. Now the very first video of the car hitting the dyno has been released and as you'd expect, it laid down some exceptionally impressive numbers.
[youtube]https://www.youtube.com/watch?v=LqFWvAplIKc[/youtube]
During the runs, it was particularly difficult to rein in the Model S P85D's incredible amounts of instant torque without the wheels spinning. When a successful dyno was completed, the Model S P85D managed to lay down 413 hp and more impressively, 864 lb-ft of torque.
Of course, electric cars like the Model S are well-known to be difficult to dyno and quite often record curious figures. After all, Tesla claims that the two electric motors from the Model S P85D produce the equivalent of 691 hp and 687 lb-ft of torque!