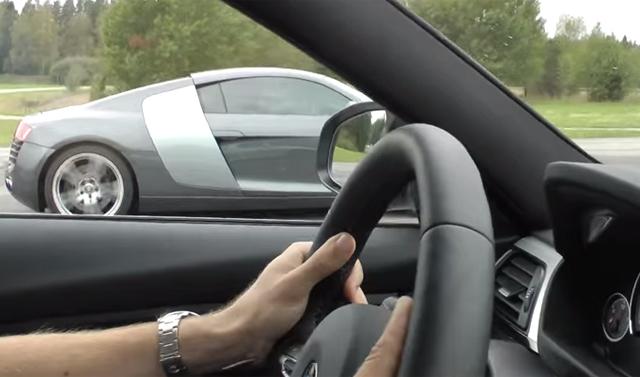 To the uninitiated, the potent Audi R8 looks about as fast as a car can get. In V8 guise however, it delivers 420 hp which is rather easily matched by a selection of high-performance sedans, coupes and estates. One such car is the latest F80-generation BMW M3 with its twin-turbocharged 3.0-litre six-cylinder engine delivering a more than impressive 425 hp and 406 lb-ft of torque.
[youtube]https://www.youtube.com/watch?v=qonXFlNwnKw#t=24[/youtube]
As a result, when the latest M3 was pitted against an Audi R8 in a rolling drag race, it was the German sedan which sprinted away from the mid-engined supercar. The main reasons for the R8's defeat are its 5 fewer horsepower, 89 less lb-ft of torque as this unit's 6-speed manual transmission compared to the M3's dual-clutch, seven-speed 'box.