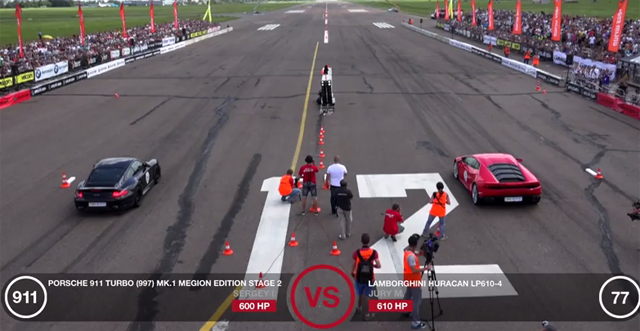 Thanks to its fast shifting, dual-clutch transmission, the Lamborghini Huracan can match the more powerful Lamborghini Aventador in a sprint to 100 km/h. How does the 602 hp Huracan compete against a 600 hp Porsche 911 Turbo and a 530 hp Audi TT RS however?
[youtube]https://www.youtube.com/watch?v=XmVlTVcT-Ik[/youtube]
Well the following video highlights perfectly just how rapidly the aggressively styled Huracan can launch off the line. While it may have come out with two losses in the drag races, its times and trap speeds are very impressive with the 11.2 seconds quarter mile particularly noteworthy due largely seemingly slippery runway!