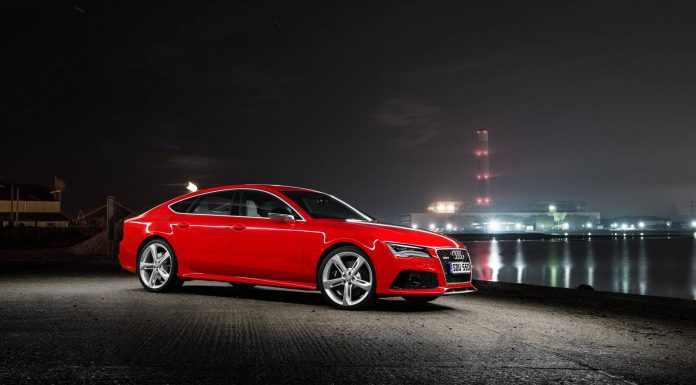 Lights, camera, action! Audi is marking the 12 days of Christmas with a collection of images which show its range in an entirely different light starting with the Audi RS 7 Sportback.
Even finished in pearlescent Misano red, the five-door hatchback RS 7 is a deceptive high performer with the front-mounted 4.0 litre TFSI V8 producing 560 hp at 5,700 rpm and 700 Nm torque transmitted through eight-speed DSG gearbox and Quattro all-wheel drive for 0-100 km/h in 3.9 seconds and a top speed limited to 250 km/h.

This was the model that at the DTM season finale, Audi demonstrated 'piloted' driving with a lap on the Grand Prix track in Hockenheim – at racing speed, without a driver, taking just over two minutes.
For orientation on this track run, the pioneering technology used specially corrected GPS signals transmitted to the car by WiFi to the automotive standard and redundantly via high-frequency radio. Alongside this, 3D cameras in the car filmed the track, and a computer program compared the cameras' image information against data stored on board for centimetre-accurate orientation.
Piloted driving test results are continually fed into Audi's development programme to help with automatic avoidance functions in critical driving situations, for example.
So options fitted on the standard road car pictured include Audi side assist, Audi active lane assist, and adaptive cruise control with Stop&Go function including Audi pre sense front, so it could almost do what the driverless car achieved. But don't try this at home!
*Update: Featured in Day 2 of the Audi 12 Days of Christmas is the Audi RS6 Avant!