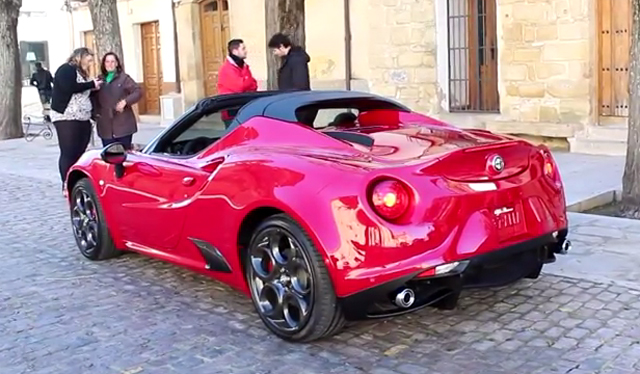 Two Alfa Romeo 4C Spiders have been filmed up close during the Italian sports car's official photoshoot and the filming of its launch trailer. It is very rare that footage of this kind emerges but due to the public setting where the clip is being filmed, it was inevitable that the cars would perk the interest of locals.
[youtube]https://www.youtube.com/watch?v=6nEg_Jaz-Ak#t=59[/youtube]
Alongside the removal of a fixed roof, the Alfa Romeo 4C Spiders features have been fitted with more traditional headlights like the Spider Concept. Additionally, a set of carbon fibre air intakes on the side skirts and not present on the 4C coupe can be seen.
Alfa Romeo 4C Spider Concept

While it remains to be confirmed, reports suggest that the Alfa Romeo 4C Spider's large single rollover bar is made from carbon fibre as well as the windscreen frame. All up, the 4C Spider is expected to tip the scales at just 60 kg more than the lightweight coupe.
Compared to the Alfa Romeo 4C Spider Concept unveiled at the Geneva Motor Show 2014, these production-spec cars also don't feature two centrally-located tailpipes and instead feature one on each side of the rear like the 4C coupe.
Underneath, the Alfa Romeo 4C Spider will feature the same 236 hp 1.75-litre four-cylinder engine with a six-speed dual-clutch gearbox as the coupe. The combination of the low weight with a power dense engine means the 4C Spider should be capable of hitting 100 km/h sprint in 4.5 seconds and a top speed of more than 250 km/h.