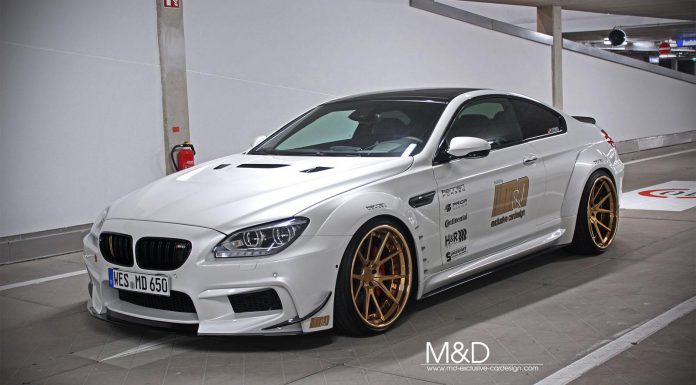 When left standard, the BMW 6-Series Coupe combines style, sophistication and performance into one luxurious package. For those looking for more, M&D has unveiled their extensive tuning packages for the current 6-Series Coupe.
First and foremost, the BMW 6-Series by M&D has been adorned with an ultra-aggressive and exceptionally bold PD6XX widebody kit. This new kit includes massively flared wheel arches, a new hood with air extractors, two front canards as well as sharper front air intakes. Additionally, extended side skirts form part of the PD6XX kit as does a new rear bumper and small bootlid lip spoiler.
Completing the exterior changes of this particular 6-Series by M&D are forged, 21-inch wheels as well as the front kidney grille from an M6. The wheels are finished in gold and feature visible screws in gloss black and they measure 10 inch wide at the front and 11.5 at the rear. The tyres used are Continental Sport Contact 5's. Elsewhere, the brake calipers have been painted red with lowered springs also installed.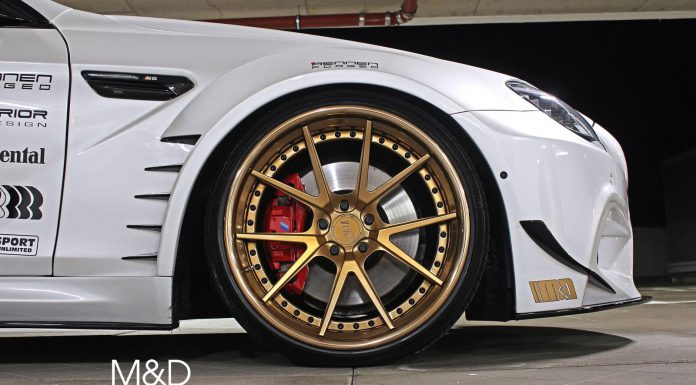 From a performance standpoint, M&D has managed to extract 510 hp and around 553 lb-ft of torque from the 4.4-litre, twin-turbocharged V8 engine. The additional power has been achieved through the installation of a complete exhaust system and tweaks to the German sedan's ECU.