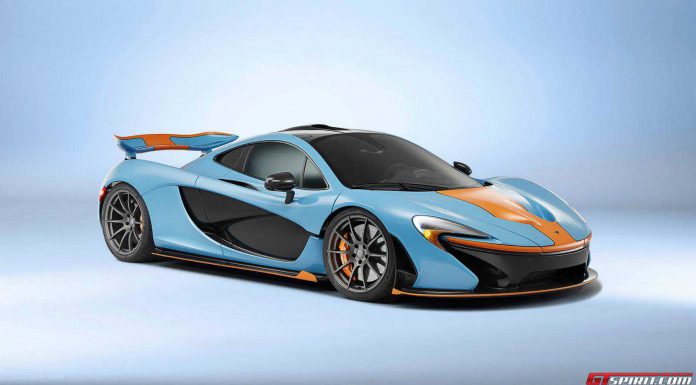 A McLaren P1 has just rolled out of the British factory and thanks to McLaren Special Operations, it is certainly one of the most eye-catching P1s created to date. It was commissioned by businessman and philanthropist Miles Nadal and wears a Gulf racing team inspired livery combining blue and orange elements across the exterior and in the cabin.
A couple of McLaren F1 GTRs in the past have been adorned in Gulf liveries and this P1 takes inspiration from them. Consequently, most of the body is finished in a light shade of blue with orange accents found on the hood, front splitter, rear wing and decklid. Additionally, orange pinstriping can be found across the rear diffuser. Competing the exterior look are matching orange brake calipers.
Inside, the blue and orange theme is continued with blue and orange elements on the dashboard, centre console and steering wheel.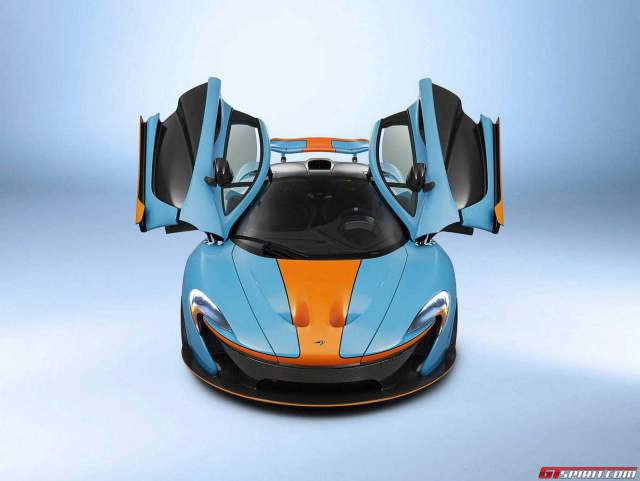 The McLaren P1 is of course part of the new breed of hybrid hypercars. It features the 3.8 litre V8 M838TQ engine (upgraded from the M838T of the 12C production road car). Whilst on paper it looks to share similarities with the 12C's powerplant, that is far from the full picture. The McLaren P1 features a completely re-engineered twin-turbo variant of the V8 powerplant.
The M838TQ variant of the 3.8-litre V8 features a unique engine block casting which incorporates the electric motor. It gets all new turbochargers which run at 2.4 bar pressure, dry sump lubrication and a low sited flat plane crankshaft. On its own, the engine produces 727 hp at 7,300 rpm, and 720 Nm of torque from 4,000 rpm. The hybrid drive comes via a single electric motor mounted behind the cockpit alongside the petrol counterpart. It produces 176 bhp and 130Nm of torque with an effective torque output of 260Nm thanks to gearing.
Read more from our McLaren P1 review here!