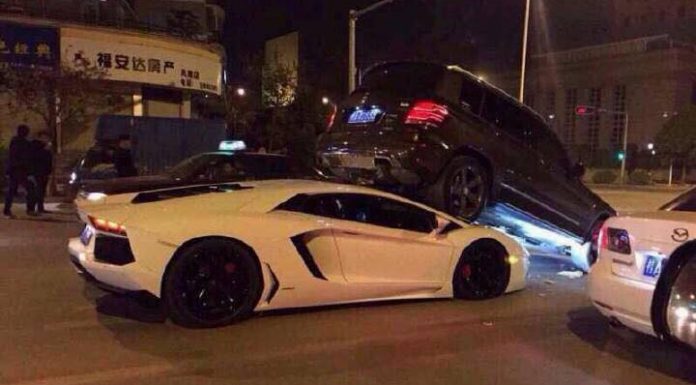 Whoops, another supercar drama in China! There's something about the slippery wedge of the Lamborghini Aventador LP700 that's designed to cut through the air at up to 350 km/h, after dashing to 100 km/h in just 2.9 seconds thanks to the 6.5 litre 700 hp V12 engine driving all four wheels.
To bring the machine to a halt there are 400 mm carbon ceramic brake discs with 6-pot callipers on the front and 380 mm CCB discs with 4-pot callipers on the back.
However they do have to be activated by the driver, which appears to have been a problem at these traffic lights in Nanning, Guanxi, China, when the combination of the Lamborghini's aerodynamic wedge nose and high clearance of the Mercedes-Benz GLK gave the Aventador's driver an unusual close-up view of the underside the luxury compact SUV.